We have a holistic view of student wellbeing. Our approach integrates character development and service with a strong curriculum, including high expectations of students learning, student leadership opportunities, a wide variety of challenging co-curricular including world class performing arts and outdoor education activities, and comprehensive pastoral care and Christian development programmes.
Research shows that effective learning takes place within the context of relationships built on trust and respect – we know first-hand that students learn best from a position of acceptance and belonging.
Our Middle School is a welcoming, warm community. Our school culture encourages genuine and quality relationships between students and other students, between students and staff, and between staff and parents, creating an environment where students are comfortable, secure and able to flourish during these important teenage years.
Our students engage with the School's 15 Character Strengths throughout Years 7 to 12 in many varied and intentional ways. Character education equips our young people to grow in wisdom, hope, community, and dignity, and is shaped by an understanding of God at work in the world, actively shaping each individual story. Our students regularly hear about our Character Strengths from members of staff in assemblies or Chapel. Each student identifies their own character strengths using the VIA Character survey and reflects on their individual and group strengths. This provides an opportunity for each student to discuss how their strengths can be used to help overcome obstacles and give them tools to improve areas that may not be as strong. Students are also encouraged to put their strengths into action when they are participating in the many different areas of School life, including the many service activities we offer that give students opportunities to help those less fortunate in our local communities.
We have six School Counsellors available for students. Directed by our pastoral team, we also gather quantitative and qualitative data on our students' wellbeing needs.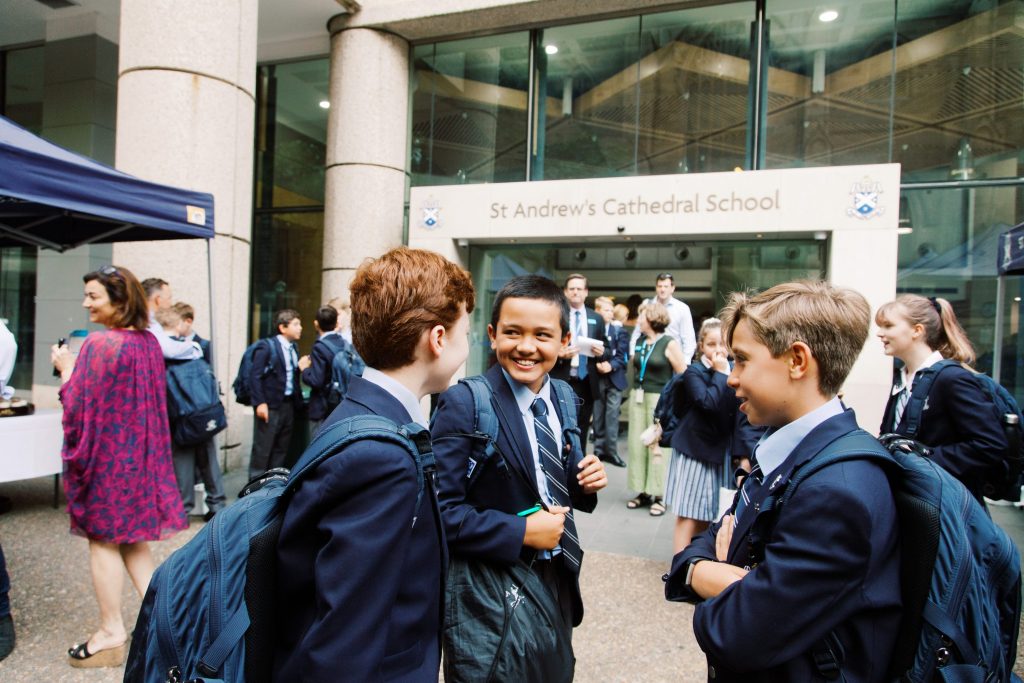 Middle School tutor groups
Each student in the School is a member of a small pastoral and academic support group, led by a member of the teaching staff. In the Middle School, the Tutor is the primary carer, working in partnership with the Year Coordinator and the Director of Learning. The pastoral period from 12noon to 12.30pm daily is used for whole school assemblies, Middle School assemblies, chapels, year meetings and tutorials.
The tutorial programme incorporates wellbeing, study skills, social and community education, leadership and wellbeing activities. These sessions are age-appropriate and tailored for the experience and knowledge of the students at their various levels of development.
Classroom teachers, tutors, Year Coordinators, Heads of Division and the Chaplaincy team monitor and track the academic progress and wellbeing of each student. This ensures that the students are known and cared for throughout the school. 
The programme for Year 7 students is focused on integrating them successfully into the life of the school, helping them to be positively connected with others and learn how to navigate their online relationships successfully. This conversation continues in Year 8 alongside other important interventions around health, discussing issues such as vaping and substance misuse. We begin talking to students at this stage about respectful relationships with others and focus on how their strengths can build resilience and help them cope with adversity.
Tutorial group focus areas
Our current Middle School tutorial programmes are outlined below, showing the focus areas in each year group. External speakers are carefully integrated with these programmes to provide more in-depth and targeted interventions on important issues.
Year 7
'Surviving Year 7'
Peer Support Programme (Terms 1 and 2) with Year 11 leaders
Transition to high school
'CitySafe' programme
Being a responsible digital citizen
Approaches to bullying and relationships
Getting organised, knowing the school, knowing each other
Positive Mental Health
Study skills and academic organisation
Service learning
Year 8
Developing Character Strengths and positive attitudes towards school
Developing resilience
Digital wellbeing
Respectful relationships
Service learning
Study skills and academic organisation
Year 9
Relationship and leadership skills
Developing self-resilience and character
Cybersafety, bullying and the bystander
Study skills and academic organisation
Personal best – motivation and engagement
Service learning
The House System
In addition to year-based tutor groups, students at St Andrew's Cathedral School belong to a House and wear the appropriate badge.
This enables students to participate in and contribute to a comprehensive range of activities. Students are awarded House points for both participation and success in the Swimming and Athletics Carnivals, Inter-House Debating, SACS Factor, The Big City Bake-off and Gala Day. Points go towards The Dean Pitt Shield, which is awarded to the winning House at the annual Evening of Celebration and Prize-giving at the end of the year. In Senior College, tutor groups become House-based.
Counselling
The Middle School Counsellors are based in St Andrew's House and are registered psychologists. They work as part of the team of counsellors who provide advice and support on pastoral and academic issues affecting the wellbeing of students at the School.
You may be interested in