The IB Middle Years Programme framework
All Middle School students undertake the International Baccalaureate MYP Programme. We teach global mindedness: an openness to the world, so that our students learn to appreciate difference and recognise their deep interconnectedness with others.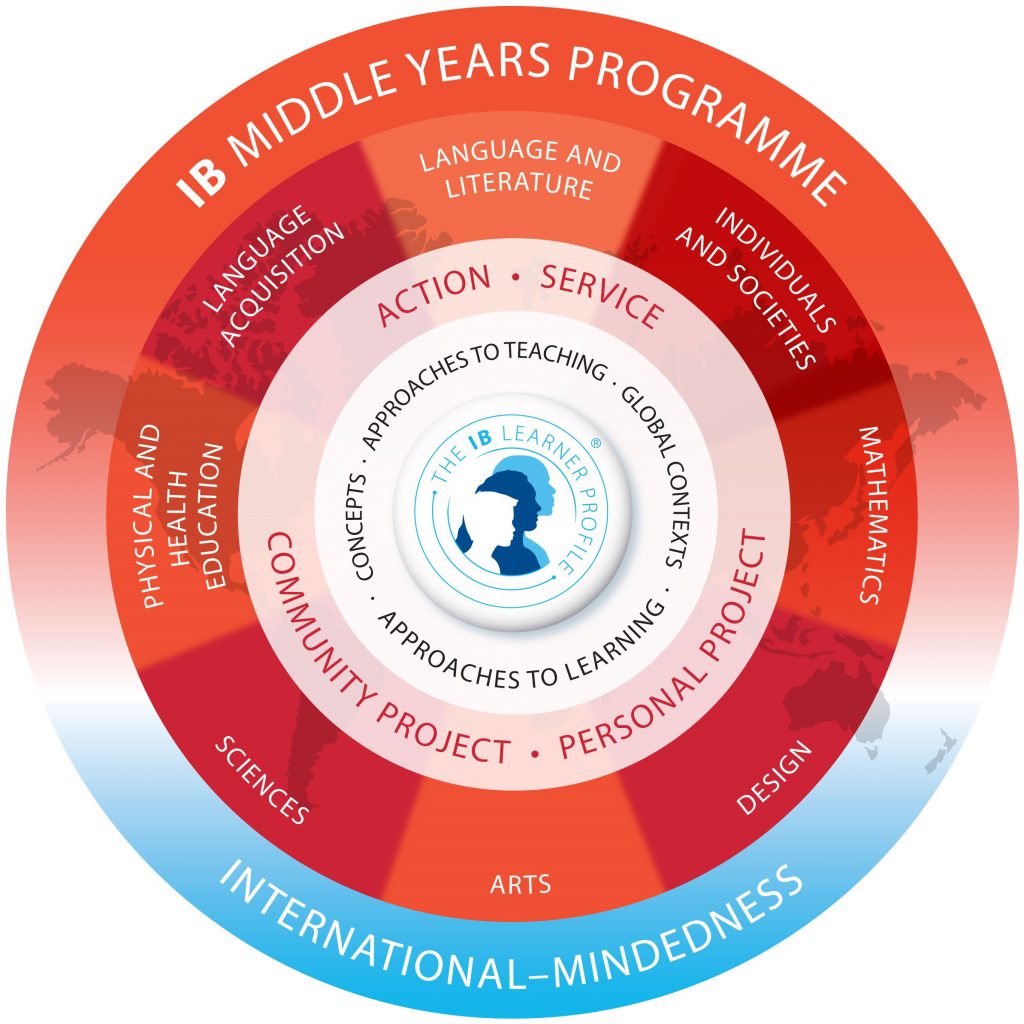 The framework also teaches higher-order thinking, helping our students be more reflective about the process of learning (to 'learn how to learn') and therefore more skilful in their thinking. We also build interdisciplinary connections rather than teaching subjects in isolation, helping students to see the connections between their subjects and the real world. This approach ensures the middle years of schooling build valuable skills for the senior years.
Noticeably, the framework places the student at the centre with the other key elements radiating out. The MYP curriculum structure replicates very closely the eight Key Learning Areas of NSW curriculum courses: Language and Literature (English), Language Acquisition (French, Mandarin or Spanish), Mathematics, Science, Individuals and Societies (History, Geography), Design, Arts (Drama, Music, Visual Arts) and Physical Education (PDHPE). In Years 7 and 8, they will study all the Key Learning Areas and Christian Development and then in Years 9 and 10, they will continue to study English, Maths, Science, History, Geography, Christian Development, PDHPE and their second language. They will also have a choice of two elective subjects.
Personal Project
Towards the end of the MYP in Year 10, students have an opportunity to demonstrate the fruit of their learning through the completion of a Personal Project – a longer-term 'passion' project where they bring to bear their research skills, character strengths, knowledge across subjects, understanding of global contexts and interdisciplinary skills. Below are a selection of the Personal Project video summaries submitted by the 2021 MYP Year 10 students.
Here is a link to some more Personal Project stories from our 2022 MYP graduates, who share what they learned through completing the project: 'Year 10 students transformed by their passion projects'
Curriculum
We are committed to best practice learning in the Middle School years. We recognise that the specific academic needs of students through this stage are different from those in primary education and the final secondary years.
Our students gain powerful knowledge through mastering curriculum content as well as understanding the methods for creating that knowledge within each discipline. This provides them with the tools they need to become expert, flexible thinkers who are able to create fresh solutions for local and global issues.
Our courses fall within the Key Learning Areas:
English
Mathematics
Science
Technology and Applied Studies
Human Society and Its Environment Sciences
Languages Other Than English
Christian Development
Creative and Performing Arts
Personal Development, Health and Physical Education
Elective Subjects:
Elective subjects are studied from Year 9.
Aboriginal Studies
Commerce
Dance
Design and Technology
Drama
English Elective
Global Studies
History Elective
Industrial Technology – Engineering
Industrial Technology – Timber
Information and Software Technology
Music
Philosophy and Belief
Photographic and Digital Media
Physical Activity and Sports Studies
Textiles Technology
Visual Arts
You may also be interested in