Meet our Head of Senior College –
Mr David Lindsay
A former structural engineer, David Lindsay came to St Andrew's Cathedral School after spending 20 years at St Paul's Grammar School. He holds a BSc., DipEd., a Masters in Educational Leadership and a degree in Civil Engineering.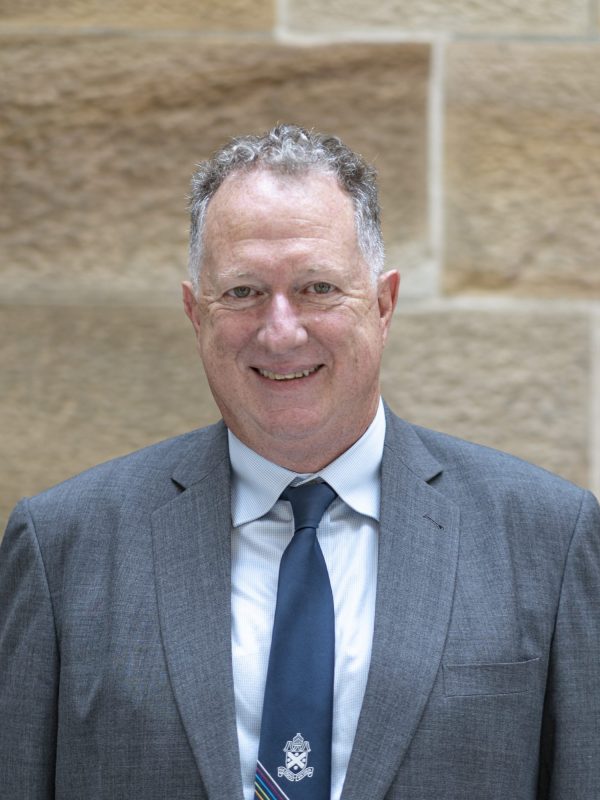 While David really enjoyed his career in engineering, he was drawn to education as a better use of his skillset: communicating with people about important things such as maths, science, service and faith.
He places a priority on creating the right conditions in the Senior College so that students are prepared not only for significant exams, but for life after school–a calm, safe environment so that staff and students can do their best work and feel that they are attending a school which is interesting, fun and fulfilling.
He loves the highly motivated, committed, clever and interesting people he works with–both staff and students, and believes the quality of what staff provide and that students soak up and get creative with, is extraordinary.
He also loves the School's solid Christian foundations, that energies are focused towards a care for all students and staff, born from an understanding that all people are loved by God and worthy of our best attention. He is passionate about Service Learning, wanting to help students understand that serving others is fundamental, wherever they find themselves, at home or internationally in difficult circumstances; an outworking of Jesus' example of coming to the world not to be served, but to serve. David walks the talk–he is a founding Board Member of a small charity supporting an orphanage and school of 70 children in the east of the Democratic Republic of Congo.
He loves reading, watching sport, bushwalking, travel and music.
Meet our Deputy Head of Senior College – Mrs Sonia Witheridge
Sonia Witheridge, Deputy Head of Senior College, came to St Andrew's Cathedral School via Scots College and Trinity Grammar School. Her role at the School involves pastoral care, teaching, leading the student Prefect team and maintaining disciplinary standards. She meets regularly with Heads of House to monitor the progress and wellbeing of Senior College students, working on the development of character.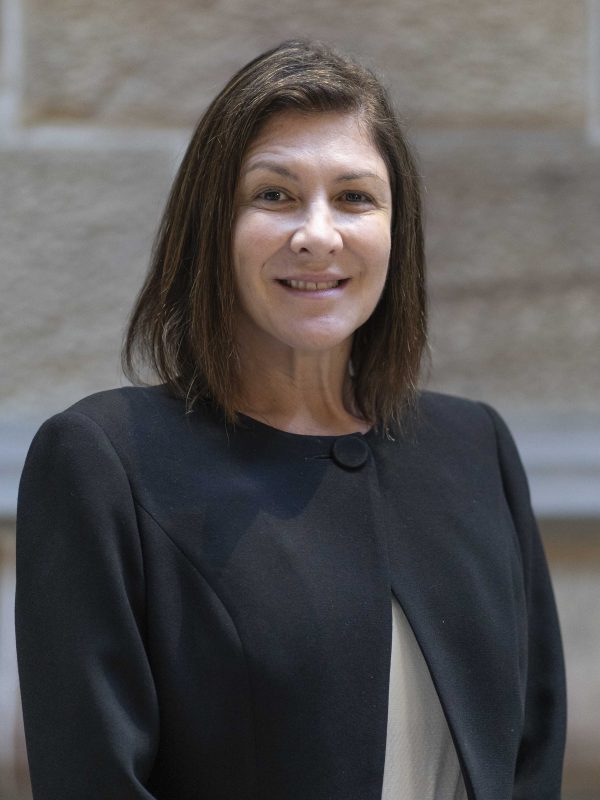 She teaches mathematics and biology, and loves those 'light bulb' moments when students understand a concept.
On track to become a microbiologist, she took a year off university to work as a school lab assistant, and travel. She enjoyed the experience so much she changed to science teaching. She loves the variety in her job; and building relationships with young people. Her role is both dynamic and fun and always different every day.
St Andrew's Cathedral School is the first school she's taught at that's coeducational and she's found the change refreshing. She also loves the collegial nature of the School, particularly working with the Senior College team that includes Heads of House, Counsellors, Gifted Education and the Specialised Learning team.
Meet our Director of Learning, HSC – Mrs Eleni Tatsis
Eleni Tatsis came to St Andrew's Cathedral School from MLC School, where she was Head of English. Prior to that she was Head of English at International Grammar School. She has a Masters of Education and Graduate Certificates in Clinical Teaching and Educational Leadership.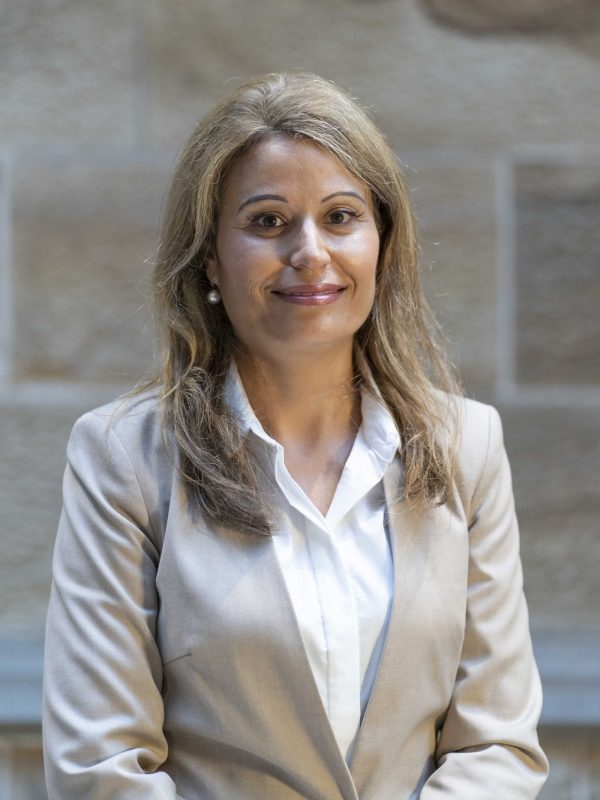 As Director of Learning she oversees students' academic progress in Senior College, assisted by the School's award winning data analytics. She works with Heads of Department on curriculum development, coaches teachers through the School's Learning Walks, manages the NESA and MYP curriculum operations for the Senior College and works on the design of learning and operations spaces. She teaches HSC English Advanced, Extension 1 and Extension 2 and is an International Baccalaureate Literature and Extended Essay teacher. She is also an International Baccalaureate workshop leader and has marked extensively for the International Baccalaureate and HSC.
She's passionate about helping students with a wide range of academic abilities and seeing them grow, always aware that as a role model to others, her actions matter.
She wanted to be a teacher from a young age and she is thrilled to be doing the job she's always wanted to do, working closely with students, parents and staff.
She loves jogging, going to the gym, kayaking, cooking for family and friends, and anything and everything Eurovision.
Meet our Director of Learning for IB Diploma – Mrs Sharon Munro
Sharon is a long-standing member of the St Andrew's Cathedral School community, having been at the School for more than 20 years. She has a Masters in Educational Leadership and works as the Director of Learning for the IB Diploma Programme so she is responsible for "all things IBDP."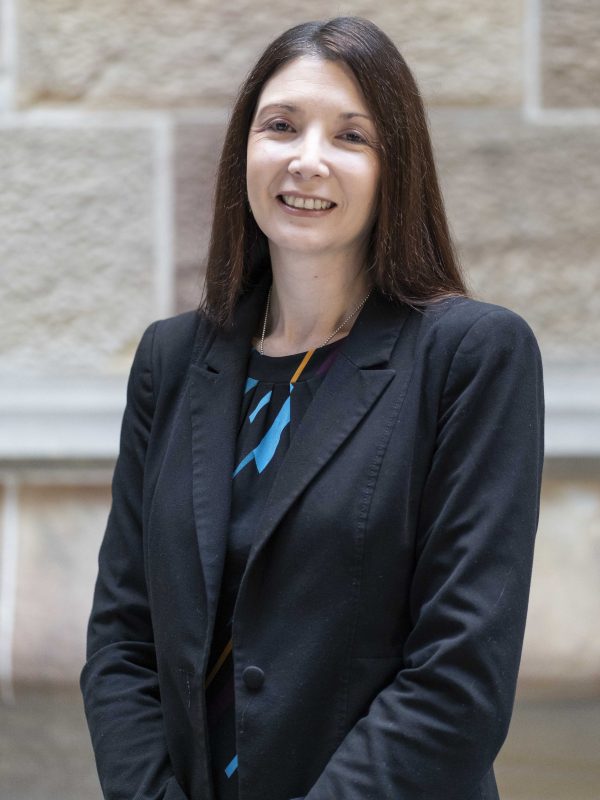 Sharon is a long-standing member of the St Andrew's Cathedral School community, having been at the School for more than 20 years. She has a Masters in Educational Leadership and works as the Director of Learning for the IB Diploma Programme so she is responsible for "all things IBDP." This includes subject selection for Year 10 students; overseeing teaching and learning and curriculum design in IB Diploma subjects; assessment; data analysis; curriculum design and professional development; Five Year Reviews for re-accreditation; as well as provisions and examinations. The role is also a pedagogical role, which also allows Sharon to work closely with Heads of Department and classroom teachers. She is also a Japanese teacher, so she teaches both the Year 11 and 12 IB Diploma Japanese ab initio and HSC Japanese Beginners courses.
She always wanted to be a teacher. She has a love of languages and teaching is a way of working with students to pass on that love to others–she's taught Japanese at both primary and secondary levels. She enjoys working with staff, parents and students both academically, pastorally and in a co-curricular capacity.
She has stayed at St Andrew's Cathedral School because of the warmth of the community. Not only does she feel well supported and stretched professionally – with wonderful opportunities to network with staff from other schools and internationally – she also enjoys her dedicated, highly capable colleagues in a workplace that is deeply relational. 
Introducing the IB Diploma to St Andrew's Cathedral School was a huge undertaking for Sharon, and the programme has grown substantially. When she's not at school or working as an IB educator as consultant, workshop leader, and marker, she enjoys travelling, cooking, basketball, and catching up with friends and family. 
Expert teachers
Our Senior College is led by highly experienced and specialist teachers who are experts in both IB and HSC subjects providing the highest level of expertise for the final years of schooling.
Over one third of our staff have post graduate Masters Level qualifications encompassing diverse areas from Education to the Arts, Science to Economics, Music to Information Technology, and Gifted Education to Leadership. Several of our teachers have also attained a Doctorate level of expertise. This diversity of experience ensures that our students are offered a broad range of subjects within both the International Baccalaureate (IB) Diploma Programme and Higher School Certificate (HSC) curriculum.
Our teachers are active members of the wider educational and academic community who enthusiastically share their expertise by leading professional associations, presenting at international conferences and HSC days, and contributing to a range of publications including textbooks and professional journals. Our teachers have been recognised for their expertise within their field with multiple staff receiving prestigious state and national awards and nominations, such as the ACEL Leadership Award, the Dr Paul Brock Award (ACE) and the Mary Armstrong Early Career Teacher Award (ACEL).
Our teachers also hold key roles in the development and oversight of both the HSC and IB programmes, with staff fulfilling a range of roles, including senior markers, supervisors of HSC/IB marking operations, NESA chief examiners, NESA/IB exam assessors, and authors of trial HSC/IB papers.
We have a comprehensive Further Education and Career Development programme that provides a range of services to our students to assist them to explore their post-school education and career development. With a dedicated Career Counsellor, our students are provided with individual career assessment and counselling.
We have the highest rates of teacher retention, which provides a sense of stability to the students in their care. Our school recently was awarded the honour of an industry Best Workplace Award, 2020, Australia wide, in recognition of an exceptional workplace where staff feel supported and are engaged. Thriving, engaged teachers equate to engaged and higher achieving students and a positive, flourishing learning environment.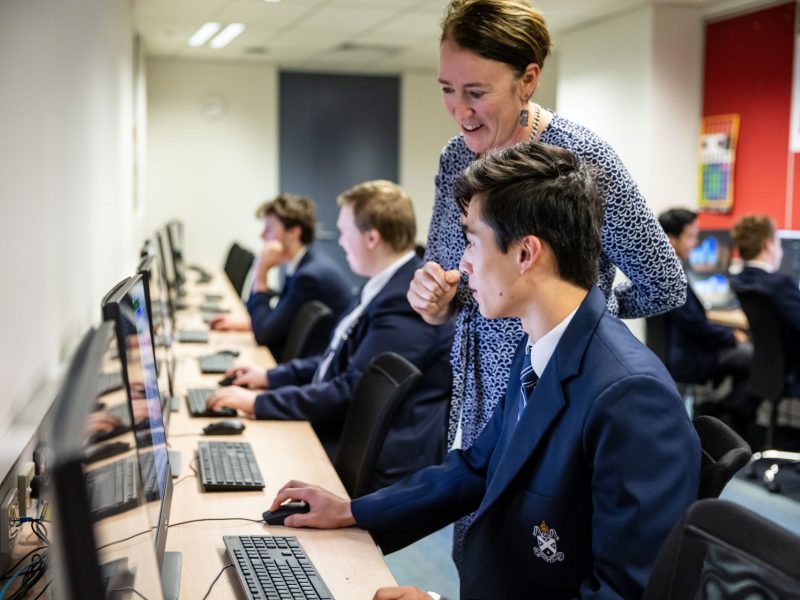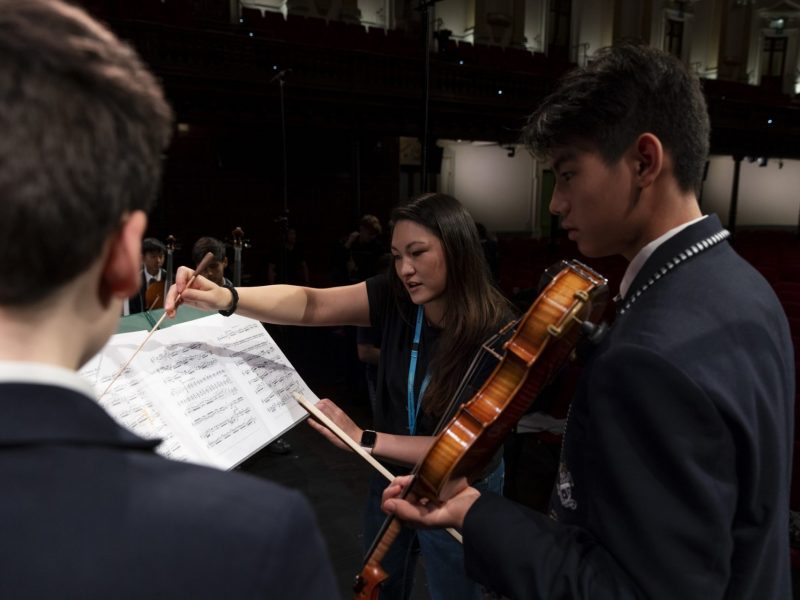 You may also be interested in