Higher School Certificate (HSC)
St Andrew's Cathedral School offers an extensive and diverse range of subjects within the NSW HSC course with only English being compulsory. English, Mathematics, History, Music, Science and Languages are also offered at Extension level. The HSC can also include Vocational Education courses which are generally offered off site (eg at TAFE).
Whilst there is an encouragement for students to think broadly in the HSC there is also the opportunity to specialise in areas such as English, Mathematics, Science amongst others. The HSC is fully integrated with the Australian Curriculum.
Half of the final HSC result is based on end-of-course examinations in Year 12. The other half is based on continuous assessment in Year 12 through the formal Assessment Task programme of each course.
International Baccalaureate Diploma Programme (IBDP)
Taught in 150 countries worldwide, the IB Diploma is the only truly international curriculum in the world, and is growing at around 20-25 per cent per year both in Australia and worldwide.
As an international course of study, the IB curriculum is the same everywhere in the world. It has three official languages in which instruction and examinations can be conducted: English, French and Spanish.
The IB Diploma offers a rich, robust curriculum, which is considered to be an excellent preparation, both in content and learning style, for tertiary study. Students are required to study a broad range of subjects, including a foreign language.
All IB Diploma subjects, other than languages, can be pursued at Higher Level. The dominant mode of assessment in the IB is examination at the end of the two-year course.
International Baccalaureate Diploma Programme (IBDP)
The IB Diploma Programme was introduced to St Andrew's Cathedral School in 2009 as a way to further expand the academic choice available to Year 11 and 12 Senior College students. It is a two-year programme that is quite different in scope and presentation to the HSC, so it is important to consider its history, requirements and how it works at the School.
The International Baccalaureate is an internationally accredited education programme which aims to 'develop inquiring, knowledgeable and caring young people who help to create a better and more peaceful world through intercultural understanding and respect'. (IB Mission Statement 2014).
The IBDP offers students a broad range of learning skills and subject areas, providing a truly international curriculum that is taught in more than 4,700 IB World Schools worldwide. It is designed to be a pre-university course, with research and self-directed learning a key focus. University tracking suggests that IB Diploma students are very well prepared for university and tend to flourish.
In the IBDP, the following are essential courses: a first language, a second language, a humanities subject, a science subject and Mathematics. A creative arts subject is optional.
The Diploma course also requires students to complete the core components of Theory of Knowledge (TOK) and to undertake the Creativity, Activity, Service (CAS) course, where they contribute to the greater community, and also complete an Extended Essay of 4,000 words. These distinctive elements are designed to develop an inquiring mind. IBDP students are assessed against standards which are benchmarked internationally.
The IBDP is based on inquiry, focused on conceptual understanding, developed in local and global contexts, focused on effective teamwork and collaboration, differentiated to meet the needs of all learners and informed by assessment.
The IBDP is a two-year curriculum for Year 11 and 12 students. Students must choose three subjects at Higher Level (HL) and three subjects at Standard Level (SL). Students must also choose one subject from each of Groups 1 to 5. The sixth subject required may be chosen from Group 6 or, alternatively, students may elect to choose a second subject from Groups 2 to 4. If students choose Environmental Systems and Societies, which covers Groups 3 and 4, they can then choose two more subjects from Groups 2, 3, 4, or 6.
In addition to the subjects offered below, all students at St Andrew's Cathedral School also study Christian Development. Subjects offered to Year 11 IB Diploma students in 2022 include (subjects are offered at Higher Level (HL) and Standard Level (SL) unless noted otherwise):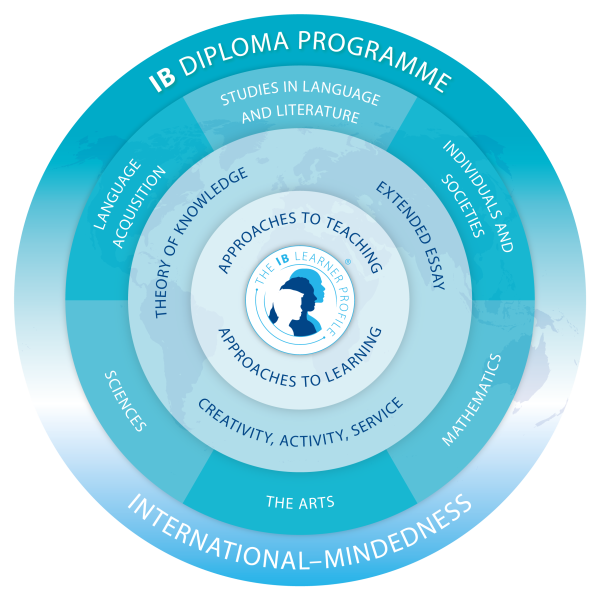 Group 1: Studies in Language and Literature:
English Language and Literature
English Literature
Group 2: Language Acquisition:
Japanese ab initio SL
Spanish ab initio SL
Chinese B SL
French B SL
Spanish B SL
Group 3: Individuals and Societies:
Business Management
Environmental Systems and Societies (Groups 3 and 4 SL)
History
Global Politics
Philosophy
Psychology
Group 4: Experimental Sciences:
Biology
Chemistry
Computer Science
Design Technology
Environmental Systems and Societies (Groups 3 and 4 SL)
Sports Exercise Health Science
Physics
Group 5: Mathematics:
Mathematics: Analysis and Approaches,
Mathematics: Applications and Interpretation
Group 6: The Arts:
Reasons students may elect to study the IB Diploma
The IBDP allows students to achieve depth of subject knowledge through the study of Higher Level subjects, and the breadth of subject knowledge through the Standard Level subjects they study. Studying three subjects at a Higher Level allows students to extend themselves in three subject areas. Studying across a broad range of subjects (first language, second languages, humanities, science and mathematics) assists students in keeping their career options open or even altering career aspirations.
It is possible to study three languages (two first languages in Group 1 and one second language in Group 2, or one first language in Group 1 and two second languages in Group 2). Students can also study two Group 4 Science subjects and/or two Group 3 Humanities subjects plus ESS. By studying ESS, which covers both Groups 3 and 4, students can then study two Group 6 Arts subjects.
The internationally recognised IB curriculum has a global focus, allowing students the opportunity to consider a broader range of perspectives and cultures, whilst also requiring students to gain a deeper understanding of their own language and culture.
Many students enjoy the challenge of being assessed against internationally benchmarked standards, which are recognised by tertiary institutions around the world.
Whilst the IBDP is a two-year course, students are also provided with opportunities to undertake practice examinations and develop the necessary skills, time management and content knowledge through the school based assessment throughout Year 11. By the time students sit their final examinations at the end of Year 12, they have had the opportunity to sit four examination periods which allows them to develop and enhance their examination skills.
Should students be unhappy with some of their final IB Diploma results, they have the opportunity to retake subjects, and can use up to three exam sessions.
The final examination results in the IBDP account for between 50% – 80% of the final result. The remaining marks come from a variety of internal and external assessments. Group 6 subjects (Music, Theatre and Visual Arts) do not have a final examination but students complete internal and external assessments throughout the course.
The IB Score (out of 45) is converted into an ATAR (Australian Tertiary Admission Rank determined by UAC (the Universities Admissions Centre), using the IB conversion table.
Higher School Certificate
The Higher School Certificate (HSC) is an internationally respected credential, administered by the NSW Education Standards Authority (NESA). It is awarded to eligible students at the end of Year 12. In Year 11 students must study a minimum of 12 units, including 2 units of English. In Year 12, students must study a minimum of 10 units, including 2 units of English.
The curriculum seeks to tailor to the learning specialties of all students and abilities, enabling them to hone in on strength areas. Students are taught by specialist teachers in each subject and have the support of other staff and support networks outside the classroom.
There are currently 40 subjects offered at St Andrew's Cathedral School.
English is a mandatory subject within the HSC, at Advanced, Standard or English as a Second Language levels. All students at St Andrew's Cathedral School also study Christian Development (unless Studies of Religion is one of their HSC subjects).
HSC subjects offered at the School include:
English (Advanced, Standard, EAL/D, Extension 1 and Extension 2 [Year 12])
Ancient History
Biology
Business Studies
Chemistry
Design and Technology
Drama
Earth and Environmental Studies
Economics
Engineering Studies
French (Continuers)
Geography
History Extension [Year 12]
Industrial Technology – Timber
Japanese Beginners
Legal Studies
Mathematics (Standard, Advanced, Extension 1 and Extension 2 [Year 12])
Modern History
Music (1, 2 and Extension [Year 12])
Personal Development, Health and Physical Education
Physics
Science Extension (Year 12)
Society and Culture
Software Design and Development
Spanish Beginners
Spanish Continuers
Studies of Religion I and II
Textiles and Design
Visual Arts
Students are also able to access subjects offered through NSW School of Languages, TVET (TAFE), Saturday School of Community Languages and, in some circumstances, Sydney Distance Education High School.
Reasons students may elect to do the HSC
The HSC offers students familiarity, a wide breadth of subject choice and the ability to specialise in particular subjects of interest. For example, a student passionate about history can elect to choose Modern History, Ancient History and Extension History (Year 12 only). Or a student wanting to specialise in the sciences may wish to study Physics, Chemistry, Biology and Extension Science (Year 12 only). Those interested in a legal career may wish to specialise in Legal Studies, Economics and Business Studies. A student who is passionate about English may wish to study on top of their compulsory 2-unit Advanced load, Extension 1 English and Extension 2 English (Year 12 only).
There is no mandatory study of a foreign language, Science or Mathematics.
Only one subject is compulsory – English. Students are free to choose the rest of their subjects based on interest and passion.
The HSC also offers a Preliminary year (in Year 11) in which students are able to practice, refine and build on their skills for the HSC. The marks for the Preliminary course do not count towards the HSC and give the students the ability to develop a study routine, mature and use the time to improve strategically.
The HSC course is taught over one year, usually Year 12. However in some circumstances there is flexibility to complete the credential over a period of up to five years.
The final examination results in the HSC only account for 50% of the final result. Students earn marks for assessments and tasks completed throughout the year to make up the other 50%.
NESA has reduced the amount of assessment tasks to three in Year 11 per subject and four in Year 12, with only one set of internal examinations (yearly examinations in Year 11 and trial examinations in Year 12)
In Year 12, students also have the ability to discontinue some subjects (13 units in Year 11 can be reduced to 10 or 11 in Year 12) as the HSC ATAR is made up of a student's 10 best units (including 2 units of English) or to pick up further extension subjects.
The HSC also allows for students to undertake a vocational pathway, studying TVET courses such as Automotive Studies, Entertainment Studies, Hospitality and Travel, and Tourism to name a few.
You can achieve the HSC regardless of your ATAR (Australian Tertiary Admission Rank determined by UAC, the Universities Admissions Centre). You can also opt to do a non-ATAR HSC where a student does not want to attend university in the few years after completing school.
You may also be interested in