From the historic St Andrew's Cathedral, where it all began, to our beautifully renovated Chapter House next door; to performance and design spaces at the school with state-of-the-art technology; to access to cultural centres and sporting venues across the city, all of our students enjoy the opportunity to utilize world-class facilities from the central location of our vertical school.
St Andrew's Cathedral is adjacent to the School and is where students gather for assemblies and services. This beautiful and historic building is a constant reminder of the transformational learning that has been taking place at the school since 1885.
Our classrooms
Our classrooms are modern, spacious and light-filled; intentionally designed to support learning.
From a dedicated physics lab to sound-treated music practice rooms, the school's two city high-rise buildings include new generation learning spaces. Glass walls throughout the school make learning visible, and flexible furniture allows teachers to switch modes of learning and cater for the different learning needs of students.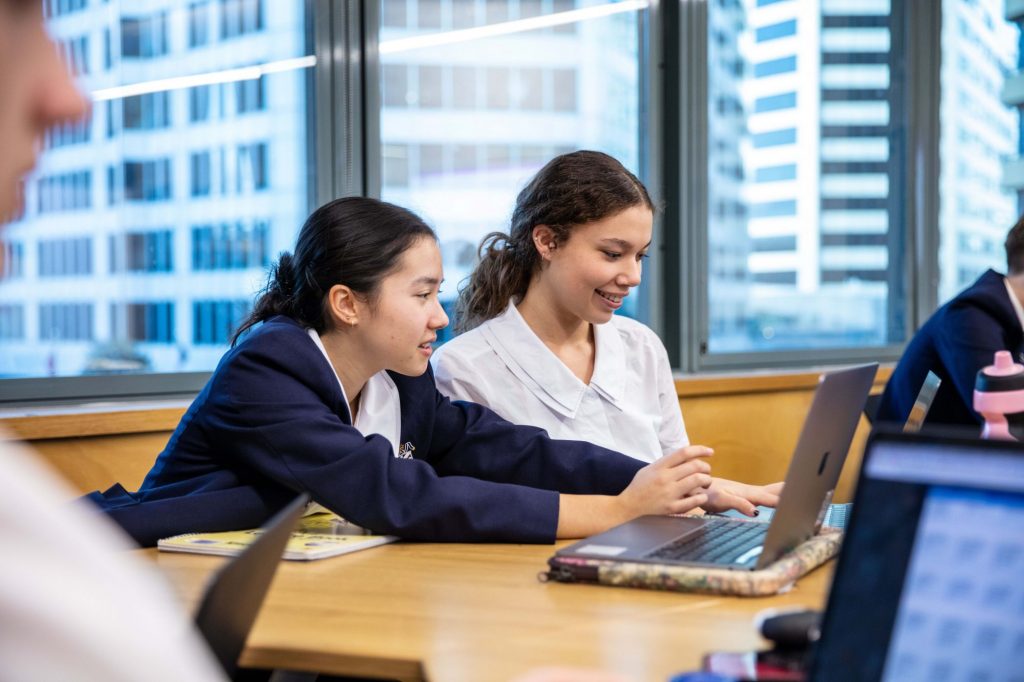 You may be interested in
Our community spaces
As a relational school, we are delighted to have so many inviting spaces to share with our community.
From the friendly circle of couches in the Community Hub where we have our smaller informal parent gatherings, to the glorious gothic Chapter House with its spectacular glass-roofed atrium and featured ceiling which is stunning for special celebrations.
Sydney Square with historic Sydney Town Hall and St Andrew's Cathedral is a special gathering place for our families and hosts our traditional Welcome in the Square at the beginning of each school year.
Our multi-purpose Heath Centre and BBC Auditorium provide flexibility and everyone enjoys events held on the iconic rooftop playground which can double as a wonderful social space with the city lights and views and hosts our Christmas markets each year.
You may be interested in
Performance Spaces
Our Music Department contains world class, flexible learning spaces.
Modern classrooms with first class audio technology, specialist instrumental and vocal ensemble teaching areas, as well as sound-treated practice rooms for individual lessons and practice, form the centrepiece of the department. Also, a recording studio is integrated into the main rehearsal space, fitted out with the latest software and hardware components. St Andrew's Cathedral, the dedicated Fairfax Music Room, and Chapter House are the major internal performance spaces utilised by the Music department.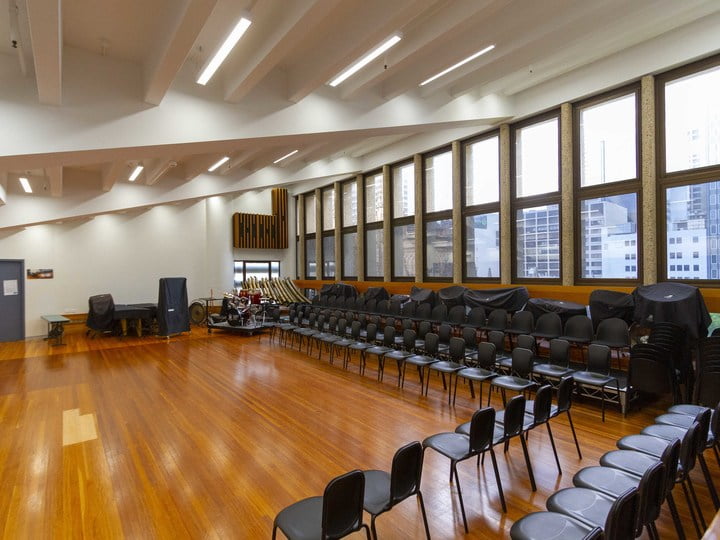 Fairfax Music Room
The Fairfax music room is named after Sir Vincent Fairfax and his family. In 1977, the Rev. Dr Allan Beavis, then, acknowledged the school's relationship with Sir Vincent Fairfax (1909- 1993), deeming Sir Vincent "the greatest benefactor of the school in its [then] 92 year history". The Fairfax room is specifically designed to enhance vocal and instrumental acoustics. A beautiful room to rehearse and perform in, with gorgeous wooden floors, and floor to ceiling windows allowing for views to Sydney Square of the Cathedral and city surrounds, our students are inspired to create outstanding music in this space.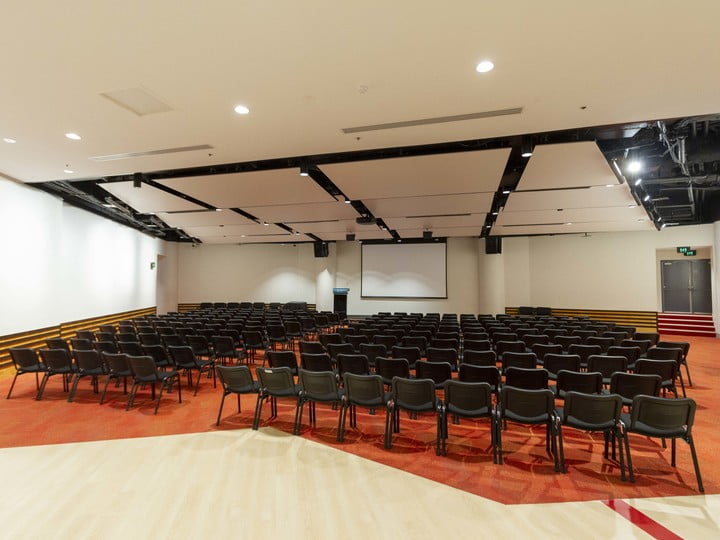 Bishop Barry Centre Auditorium
The Bishop Barry Centre Auditorium seats 200 people. The BBC Auditorium is a multi-purpose venue which is ideal for information sessions, professional development, social events, rehearsals and performances.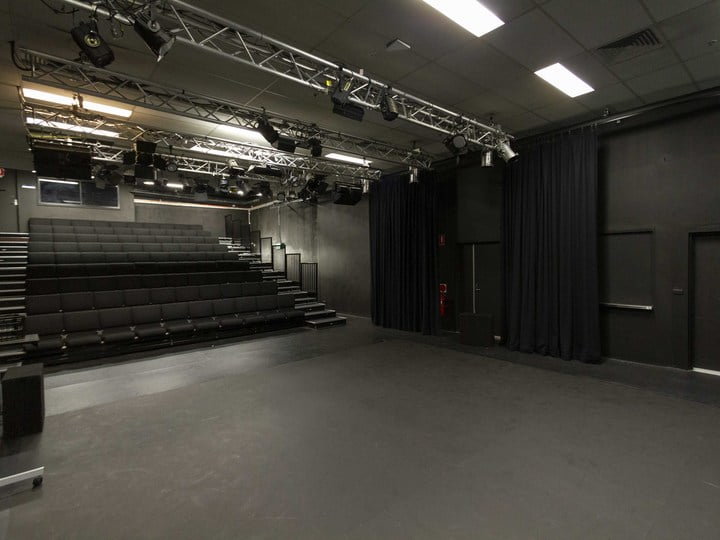 Black Box Theatre
Drama students use our in-house Black Box Theatre for Drama curriculum classes and production rehearsals. The Black Box is a small theatre, with raked seating, a stage and professional lighting rig.
Students also rehearse and perform in professional venues across the city, such as the Enmore Theatre, Lend Lease Darling Quarter Theatre and NIDA.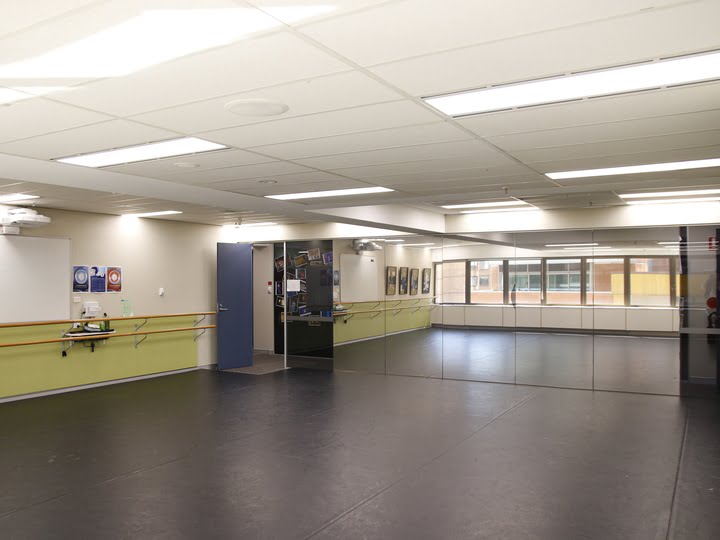 Dance Studio
The School's own dance studio has a bar and mirrors and specially designed sprung flooring.
Access to incredible city performance venues
The School's city location gives students the opportunity to perform at the City Recital Hall Angel Place, the Concourse Theatre, the NIDA Parade Theatre, and Sydney's magnificent Town Hall for events such as the annual Showcase Music concert, the biennial school musical, and the annual end-of-year Evening of Celebration and Prize-giving.
St Andrew's Cathedral is adjacent to the school and is where students gather for assemblies and services. This beautiful and historic building is a constant reminder of the transformational learning that has been taking place at the School since 1885.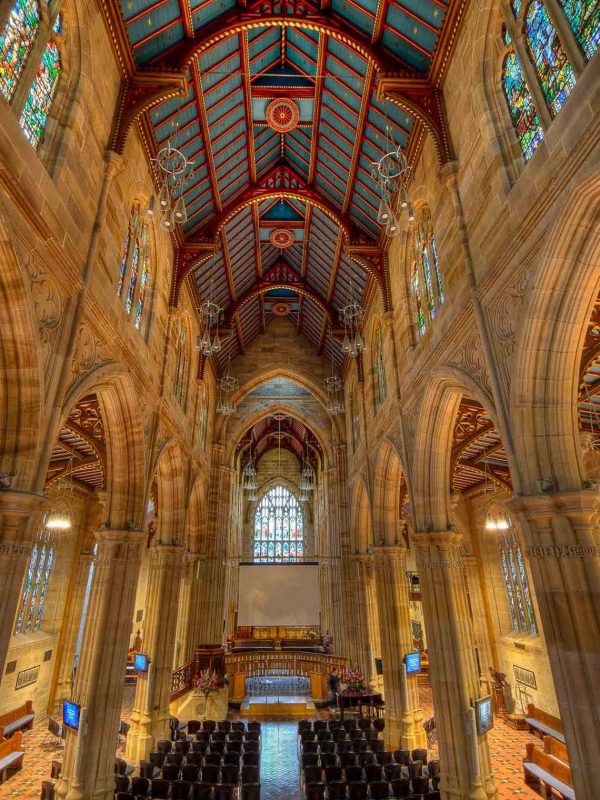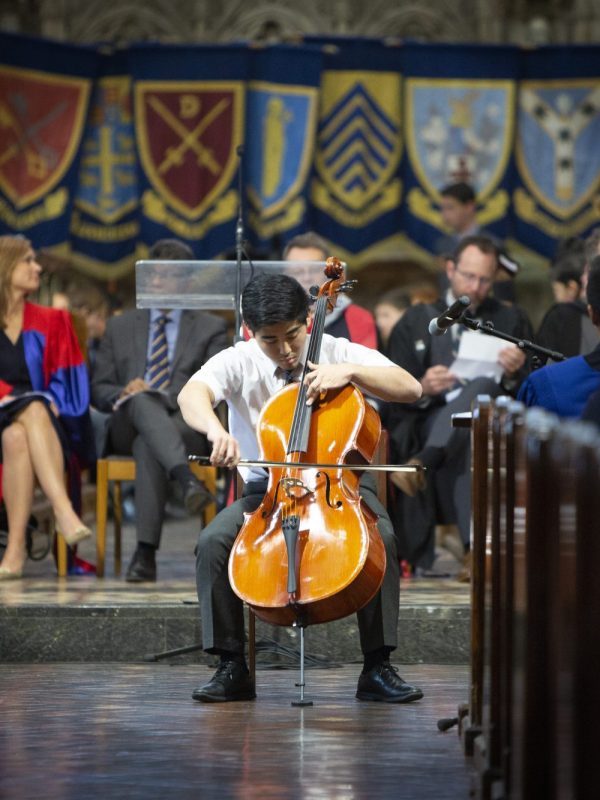 St Andrew's Cathedral
One of the finest Gothic Revival churches in NSW, St Andrew's Cathedral was founded in 1819 and consecrated in 1868. The Cathedral is a significant space and reflects our long history—following in the English choir school tradition, our School was initially created to educate choristers. Built from Sydney sandstone, with a Welsh slate roof, decorative carvings, a tessellated tile floor and stained-glass windows, it is a beautiful space where we hold key events for the whole School community. This includes assemblies, concerts, term services, and commissioning services for leaders.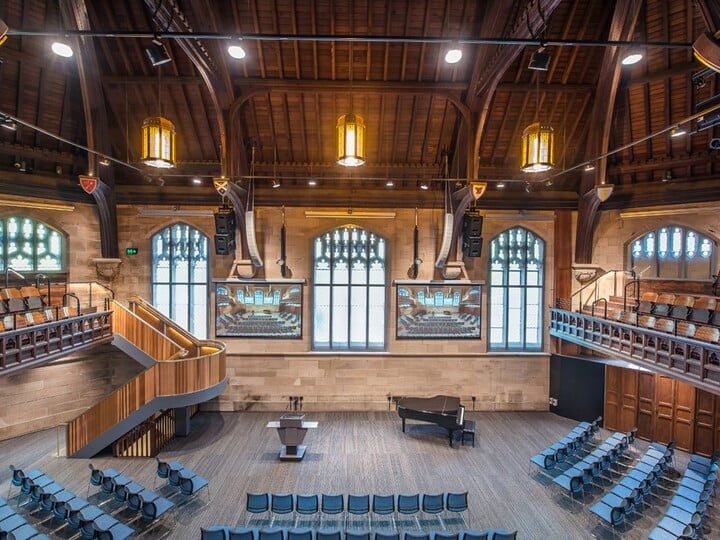 Chapter House
Chapter House, built in 1886, is a beautiful gothic building situated adjacent to St Andrew's Cathedral. In 2020, a major renovation of Chapter House created a fabulous space for assemblies, chapel and performing arts events, particularly drama and music concerts.
Chapter House has the largest seating capacity in the school and features gallery level and floor level seating. The space has a new Shigeru Kawai grand piano and glass atrium, giving our school a professional theatrical space adjoining the Cathedral. Our students regularly perform drama productions and music concerts in this professional venue, which includes state-of-the-art theatrical lighting and sound equipment, and also flexible modular staging.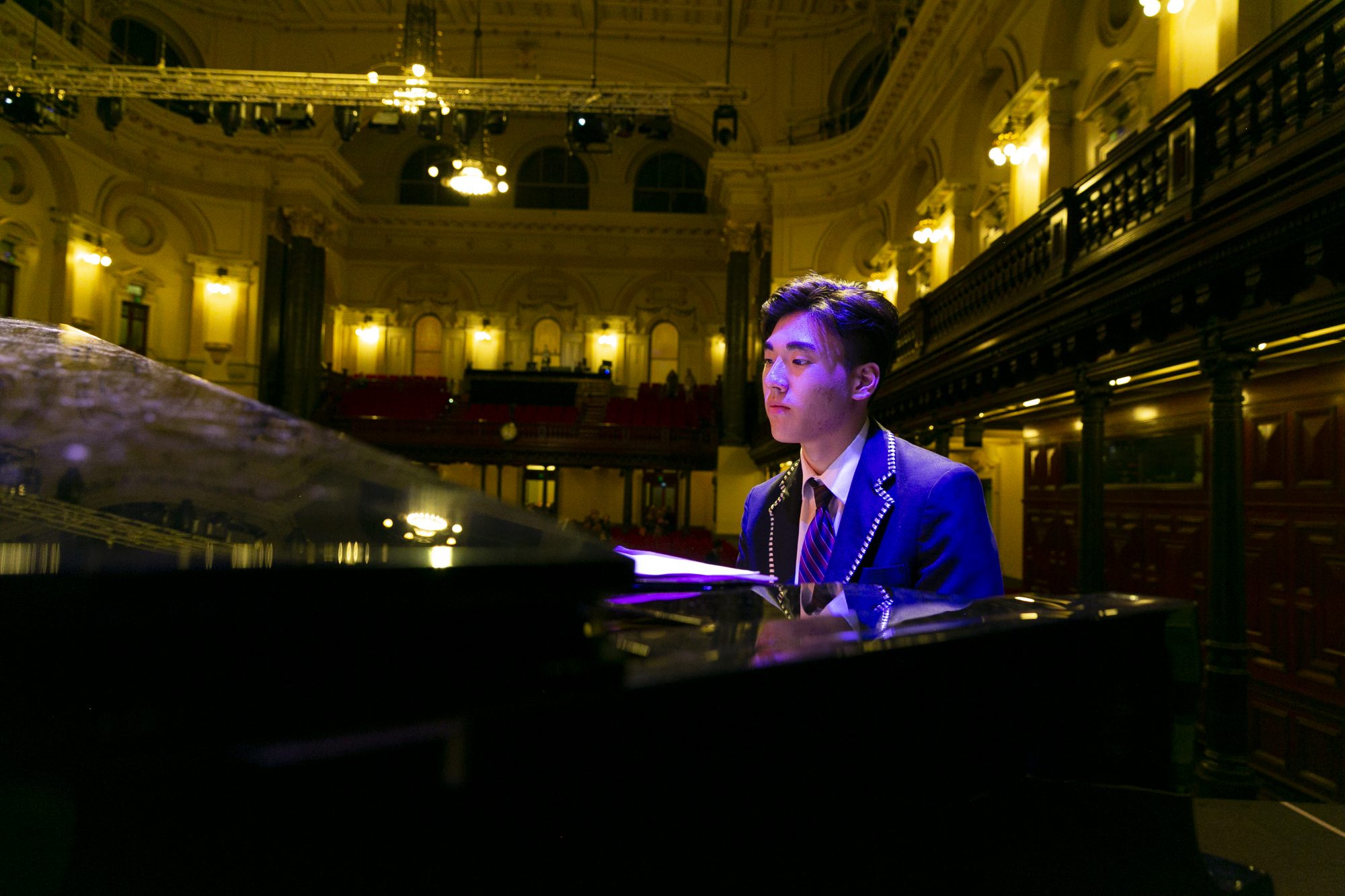 Sydney Town Hall
The School is exceptionally privileged to have a venue of this calibre on our doorstep. The Sydney Town Hall, an iconic civic landmark with its mansard roofs, wrought iron cresting, and grand organ, is a striking example of French Second Empire (Napoleon III) architecture. It combines state-of-the-art venue facilities with spectacular heritage architecture and interior decoration with a capacity for 2,535 people. We hold our annual Showcase concerts here, and our annual Evening of Celebration and Prize-giving.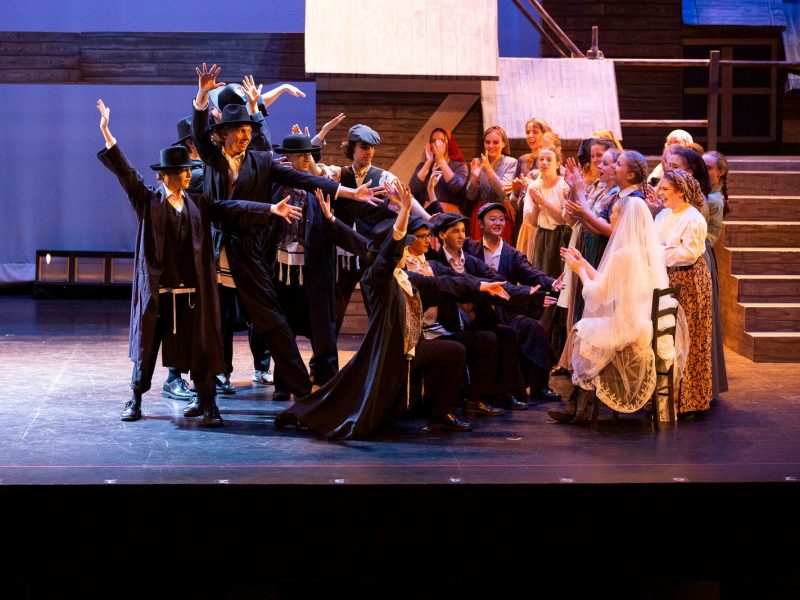 Parade Theatre
We regularly stage our musical theatre productions in this professional venue including our recent productions of Fiddler on the Roof, Wizard of Oz and Beauty and the Beast. Located at the National Institute of Dramatic Art (NIDA) at Kensington, the Parade Theatre offers seating for audiences of up to 707 people in its three-tiered, horseshoe-shaped auditorium. It has an orchestral pit, professional sound and lighting, a green room and dressing rooms. Our students enjoy working in a professional music theatre environment, a short tram or bus ride from the school.
City Recital Hall
A short walk from our School, City Recital Hall is a three-level auditorium, a beautiful venue with world-class acoustics and excellent sightlines, with capacity for 1238 people. We use this space for music performances.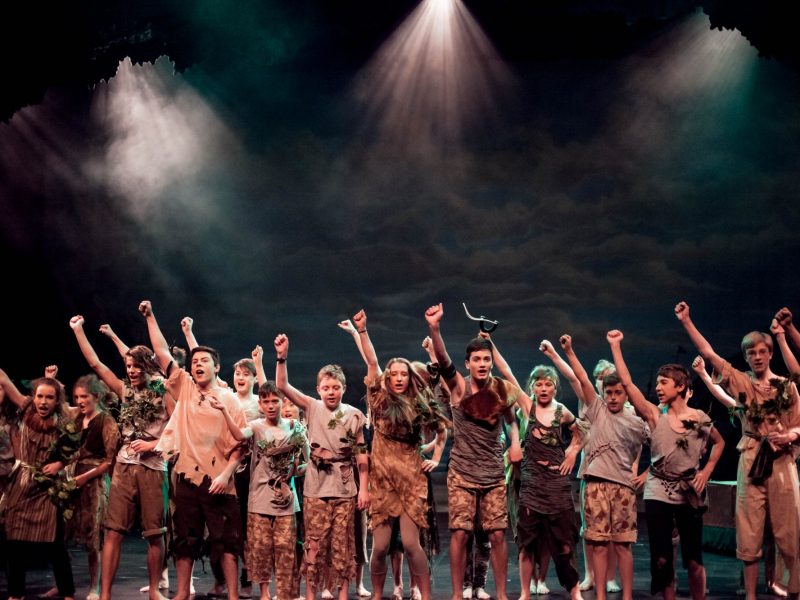 Concourse Theatre
Musical productions such as Peter Pan take place at the Concourse Theatre, Chatswood on Sydney's North Shore, a short train ride from the school. We will also be performing our 2022 musical Annie at this world class proscenium arch theatre. Our students enjoy working in this professional music theatre environment with capacity for 500, an orchestral pit, professional sound and lighting, and a backstage area including dressing rooms.
You may be interested in
TAS (Technological and applied studies) Design Centre
TAS covers a suite of subjects that marry practical and project management skills to students who think creatively and respond with innovative solutions to identified problems. Students from Year 7 learn how to manage and produce quality projects that solve identified needs and improve people's lives. By studying TAS students learn critical problem solving and communication skills, which are very much sought by industry and universities alike.
Our TAS Design Centre is located in the Bishop Barry Centre which is the home to a vast array of specialist subjects: Design and Technology, Textiles and Design, Timber Technologies, Engineering Studies and Computing subjects.
St Andrew's Cathedral School has enjoyed enormous success with its design students over many years. Recently, Olivia Hayes was nominated and selected for Shape 2020, the annual showcase of HSC Technology Works. Inspired by her love of the sport, Olivia designed a 'ThrowSmart' javelin that measures the distance, speed and angle of each throw and records the data in an app on the athlete's electronic device. Olivia's javelin was exhibited in the Powerhouse Museum which is located a short walking distance from the school.
The foyer of our Design Centre is an on-site facility that enables us to showcase student works adjacent to the facilities that created them. We have our annual end of year major project exhibition here.
The Design Centre contains two computer labs, which allow students to utilise industry standard software such as SolidWorks the Adobe Creative Suite as well as programming languages such as Python, Java Script and Unity.
The design centre is well resourced with many machines that help marry practical hands-on skills with the best of new technologies. Resources on offer include an array of 3D printers that can print in many different plastics, resin and even clay, a Vacuum Former to shape plastic through using heat and pressure, a Laser Cutter, which allows students to cut or engrave acrylic, timber, fabric or cardboard with hand drawn or digital images, a 4 axis CNC Router which allows students to machine complex parts for larger projects as well as allowing students to mill prototypes from harder materials such as alloys or steel.
We also have a comprehensive textiles room with an array of different machines such as an automatic silkscreen machine, a heat transfer press and a raft of different sewing machines including machines which allow students to design logos and motifs using computer aided design software which then can be automatically stitched using our embroidery machines.
In addition to all these computer aided manufacturing facilities, we have 2 fantastic more traditional workshops where students are able to learn about timber technologies and make amazing handmade products.
TAS and the Design Centre is truly an incredible place where students are not only able to think about their innovative ideas, they are also able to actually make working products which provide exciting opportunities for further entrepreneurial endeavours.
Many of our students go on to become architects, designers, programmers and engineers. Students often continue working with us to help in after school co-curricular programmes such as MakerSpace, which runs one afternoon per week. This is where students can enrol into specific making programmes or just come to design and make anything they wish. The whole Design Centre and its amazing facilities are open to all secondary students during this time. 
Visual Arts
The School's art rooms have been recently renovated and enlarged, with good, natural lighting.
St Andrew's Cathedral School students enjoy a display space which has exhibition lighting and movable modules for sculpture and ceramics displays. Students use it regularly to exhibit their works and practice their curatorial skills when designing the space to display the class' collection.
Our Visual Arts programmes include city walks for stimulus material and frequent visits to the major galleries in the city. Our students are able to take advantage of wonderful nearby city locations for inspiration and both natural and man-made subject sources.
Within walking distance of our school, SACS students visit Darling Harbour, the Art Gallery of NSW, MCA Museum of Contemporary Art, Hyde Park Memorial, the QVB and Sydney Botanical Gardens to study Art History and criticism, photography, drawing and artmaking. We also have strong links with the major art galleries with experts visiting the school for co-curricular art enriching experiences.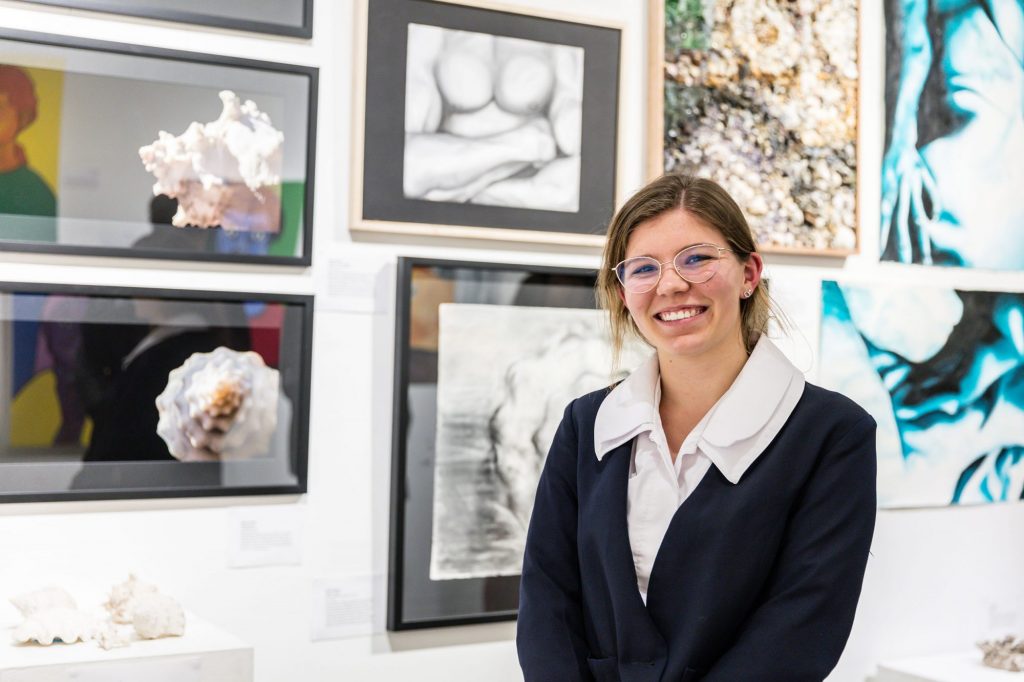 GAFFA Creative Precinct
The GAFFA Creative Precinct and Studio spaces are located in Clarence Street, Sydney. Our Senior Students who exhibit their works in the International Baccalaureate Diploma Programme (IBDP) course in Visual Arts showcase their work here–the culmination of nearly two years of studio practice and theoretical investigations.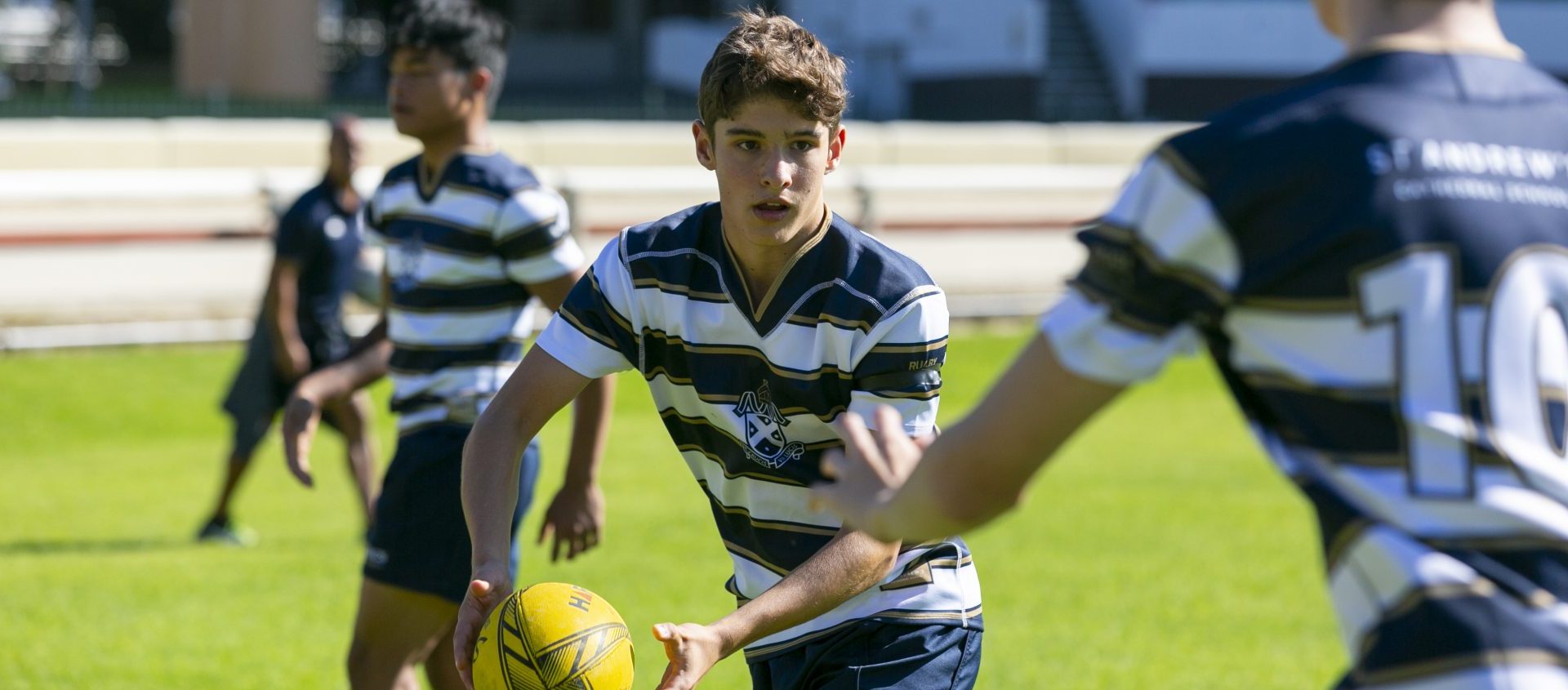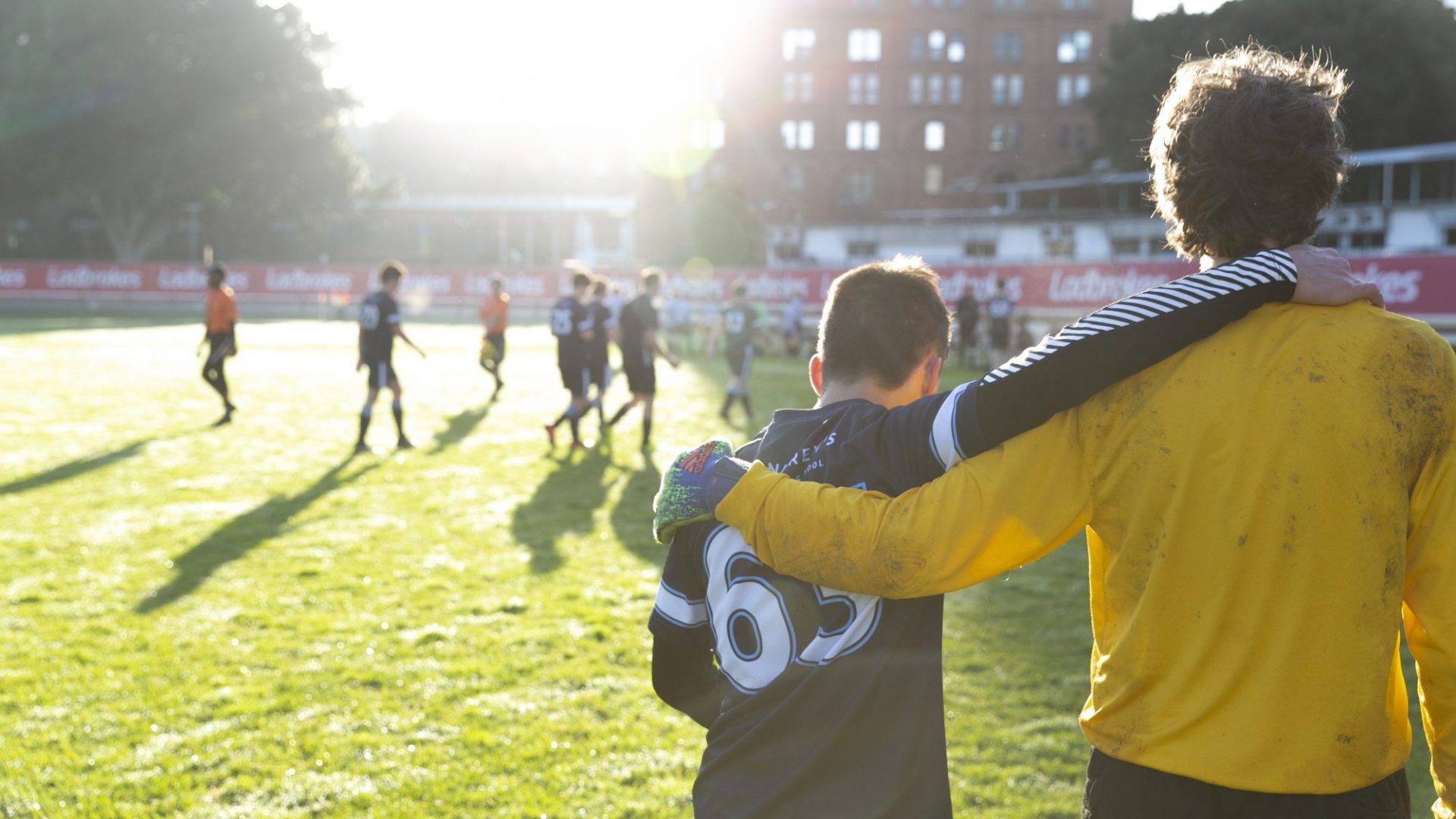 Centennial Parklands Sports Centre, Moore Park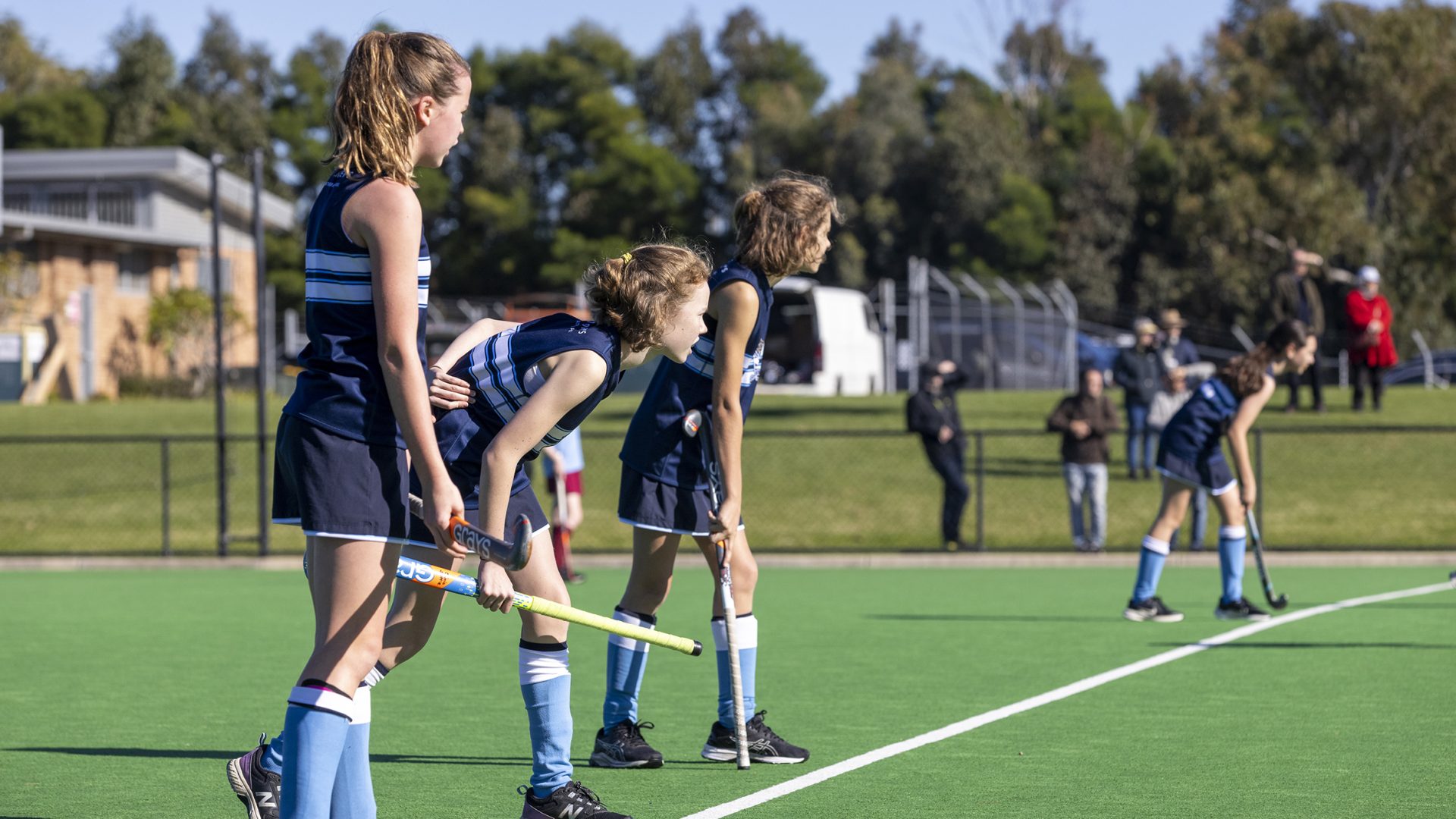 Centennial Parklands Sports Centre, Moore Park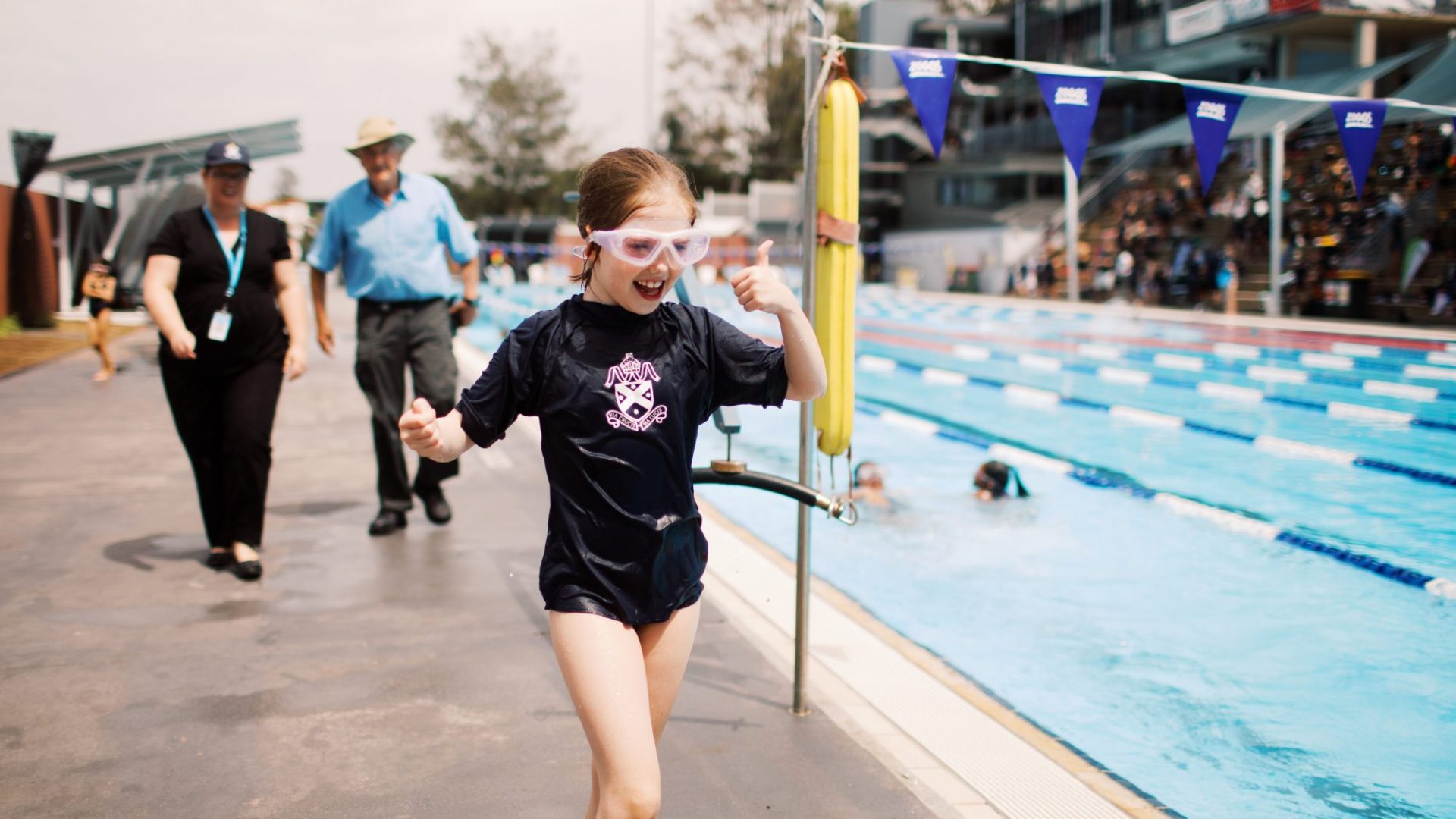 Drummoyne Swimming Centre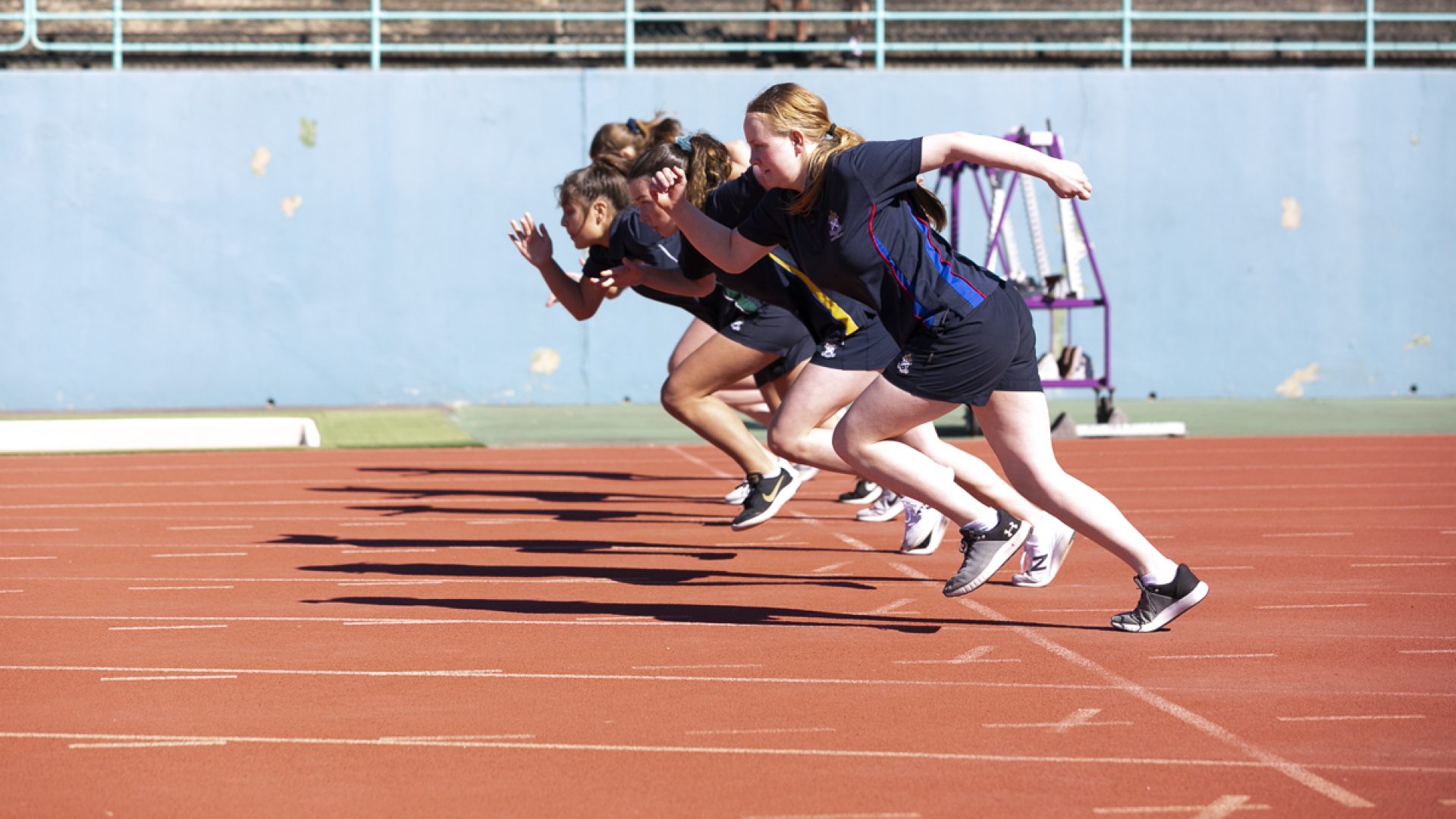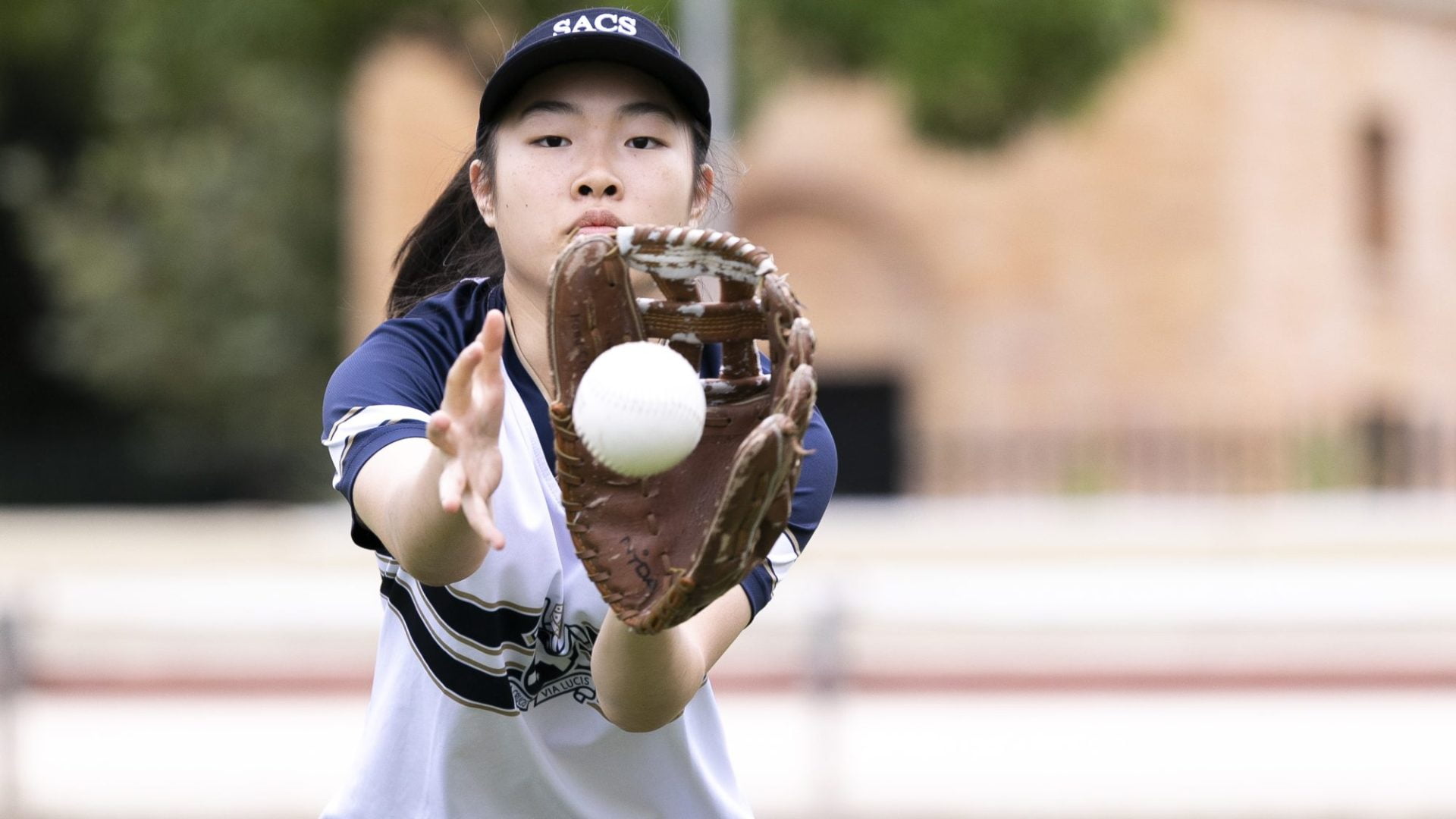 Sport facilities
The St Andrew's Cathedral School Sports Centre is an on-site well equipped modern gym. With Iron Edge Matrix cages and weights together with rowing, treadmill and ski-erg exercise machines, the Sports Centre has all that is needed for increased strength and fitness for students. In addition, to the strength and conditioning equipment, there is a 17 bike spin cycle room with state of the art Watt Bikes.
The centre is open Monday to Friday, before and after school. The highly experienced and qualified team of Strength and Conditioning Coaches work with students and teams providing training and programmes tailored to their sport and experience level, subsequently improving strength and fitness.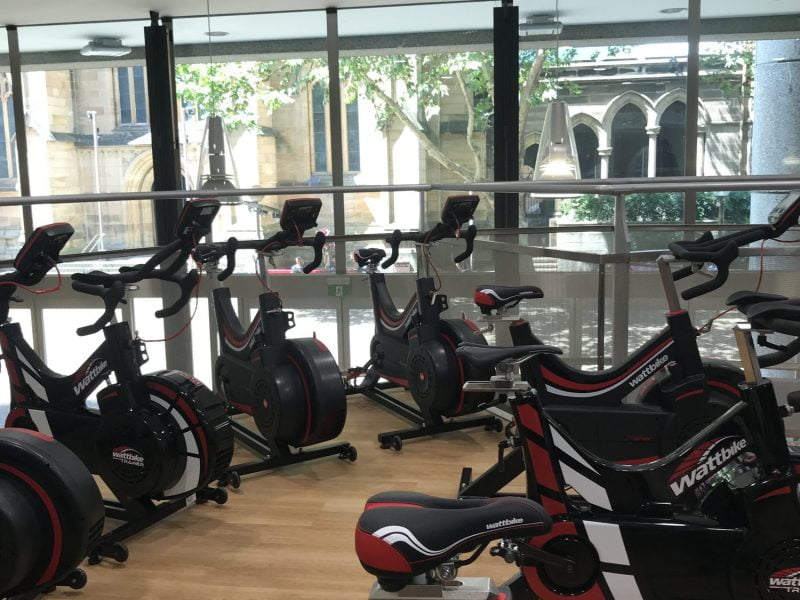 The School also has an indoor, general use gymnasium with basketball court. This is used for basketball, volleyball, netball, fencing, and PDHPE. In addition there is a rooftop playground, which also has a basketball court, cricket nets and can also be used as small training venue for hockey.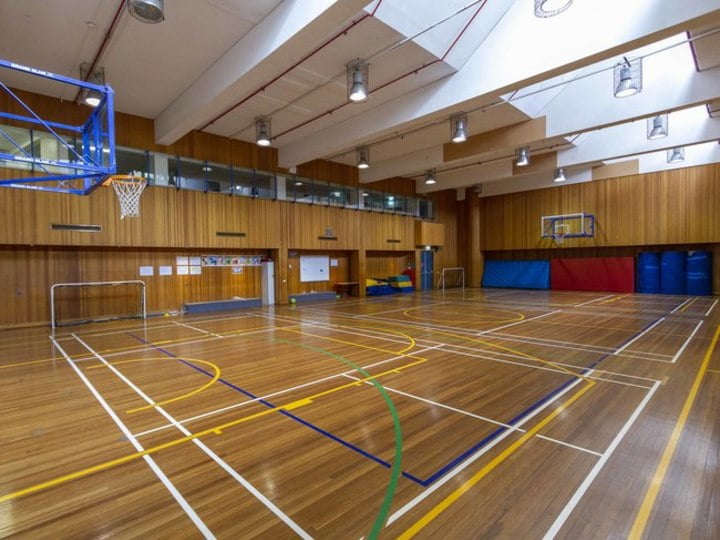 Access to amazing world class sport facilities
A benefit of being a city school means our students have access to, and regularly use, incredible, world class sporting facilities. While most of our sporting programmes are based at nearby Sydney University and Wentworth Park, our CBD location provides varied options and opportunities for students' sport.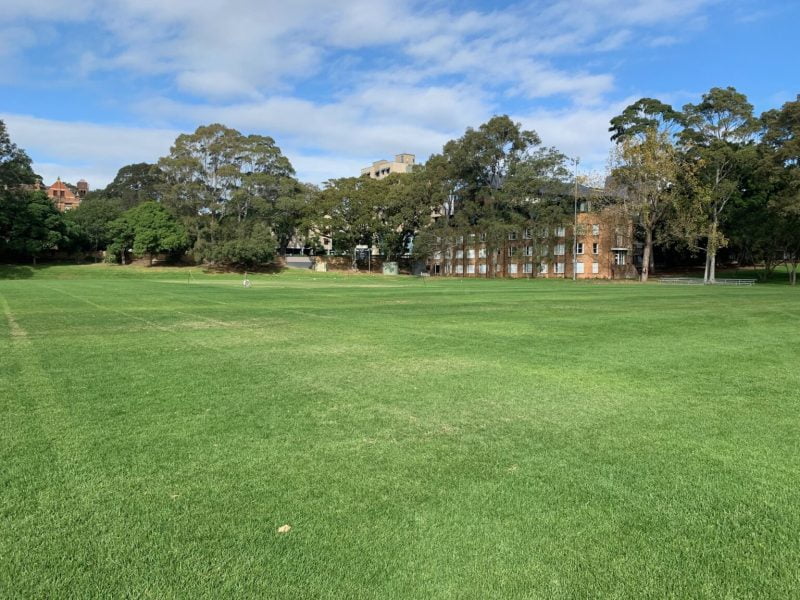 St Andrew's College Oval, University of Sydney
St Andrew's College Oval, University of Sydney, is the home ground of St Andrew's Cathedral School for rugby throughout the year covering pre-season training, games in winter and rugby 7's in Term 4. It is also the home ground for cricket with a curated turf wicket. Training occurs at the oval most afternoons and games are played throughout the day on Saturdays. The School also uses the university's indoor cricket nets in inclement weather or targeted training.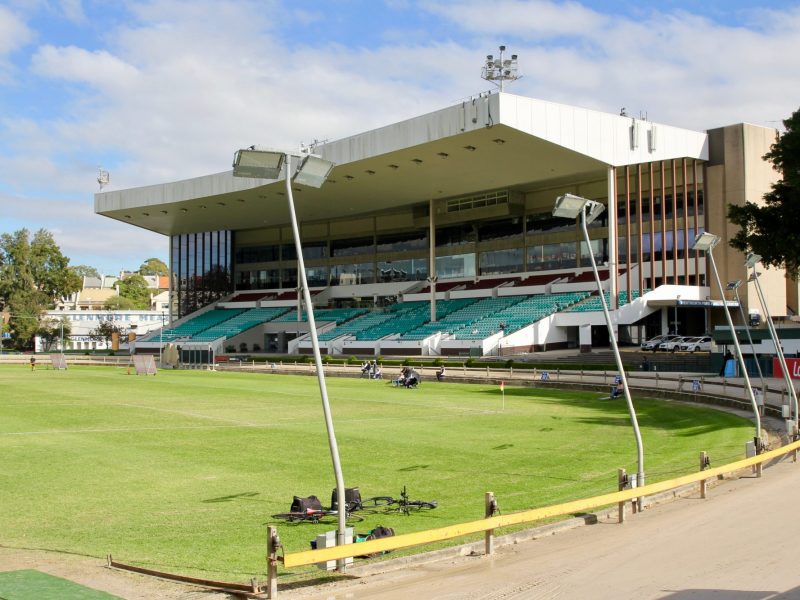 Wentworth Park, Ultimo
This facility within 2 kms of the CBD is used by our students for several sports, including softball, touch football, football and PDHPE lessons.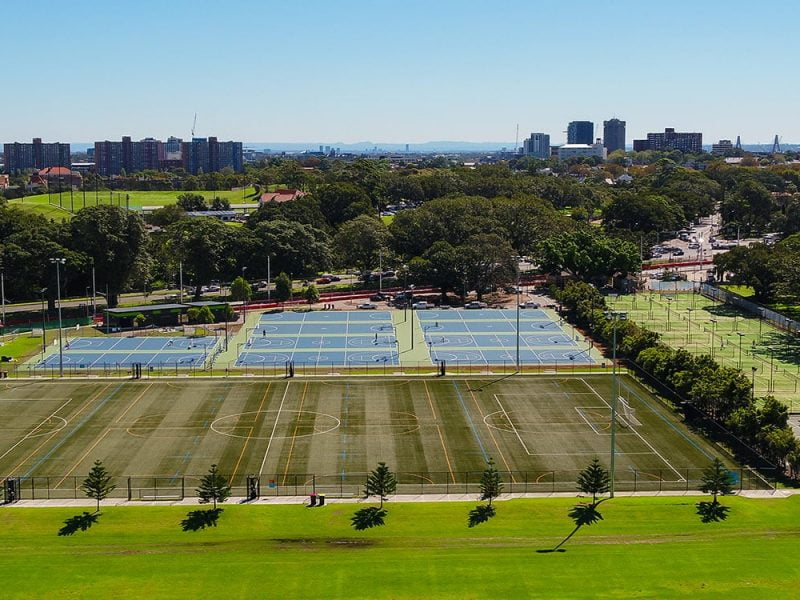 Centennial Parklands Sports Centre, Moore Park
Centennial Parklands provides a world class all-weather field allowing SACS sport to compete regardless of the weather. Along with Wentworth Park, it is our primary location for football but is also used for junior school sport and PDHPE. Junior school sport plays netball at the centre and is one of our centres used for tennis.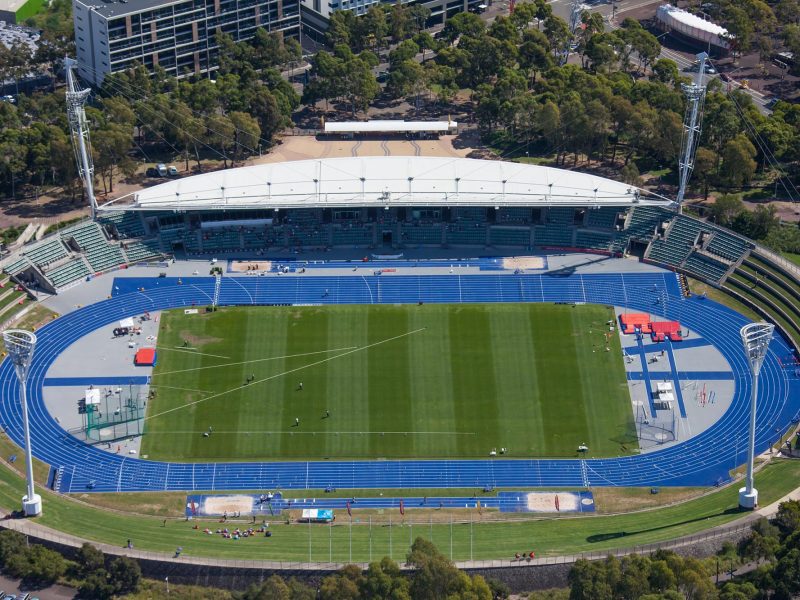 Sydney Olympic Park
Sydney Olympic Park Athletics Centre is a world-class, multi-function complex built for the Sydney 2000 Olympic and Paralympic Games. This facility offers students a state-of-the-art synthetic track, an electronic board, arena lighting and a full-sized playing field with a walk of fame to inspire students through Australia's sporting history.
Our ISA hockey teams train at SOP for both the winter and summer competition.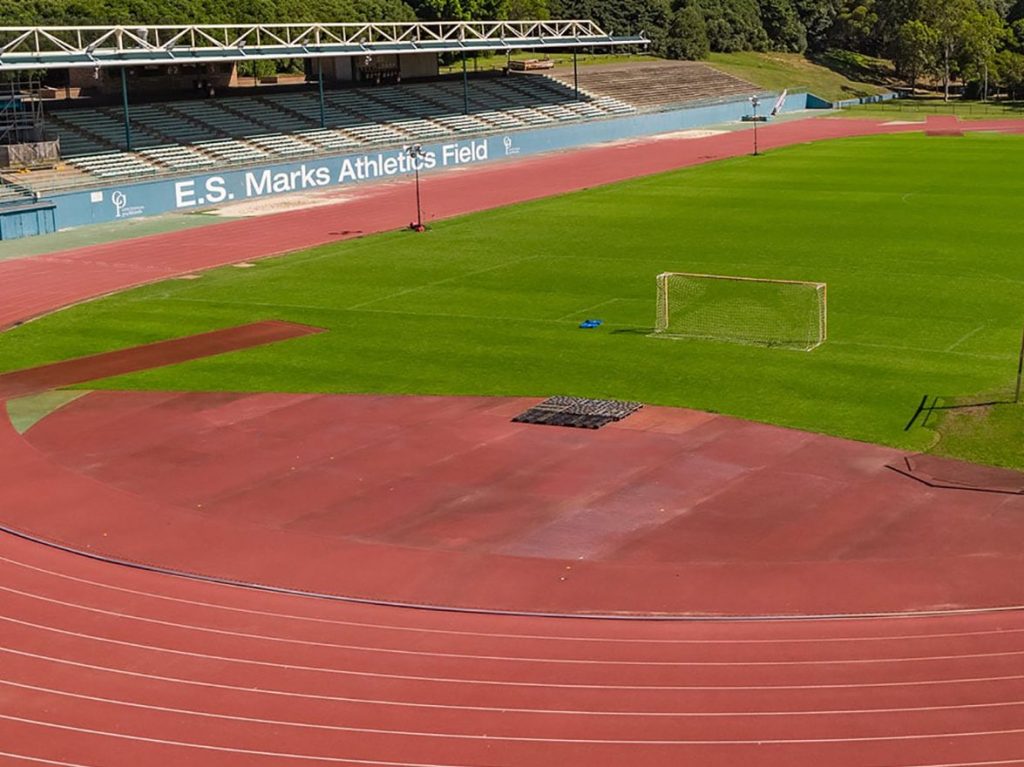 ES Marks Athletics Field
We use the ES Marks Athletics Field in Centennial Parklands, the closest athletics competition venue to the CBD, and Sydney Olympic Park, for athletics training and St Andrew's Junior and Senior Athletics carnivals.
Swimming and Water Polo
For swimming training and swimming carnivals we use a number of swimming pools close to the school including Drummoyne Swimming Centre, Cook and Phillip Swimming Pool and Ian Thorpe Aquatic Centre, all within the CBD, some offering amazing views, Olympic sized and saltwater swimming pools.
Water polo trains at Auburn Ruth Everuss Aquatic Centre which features an outdoor, heated and purpose built water polo pool.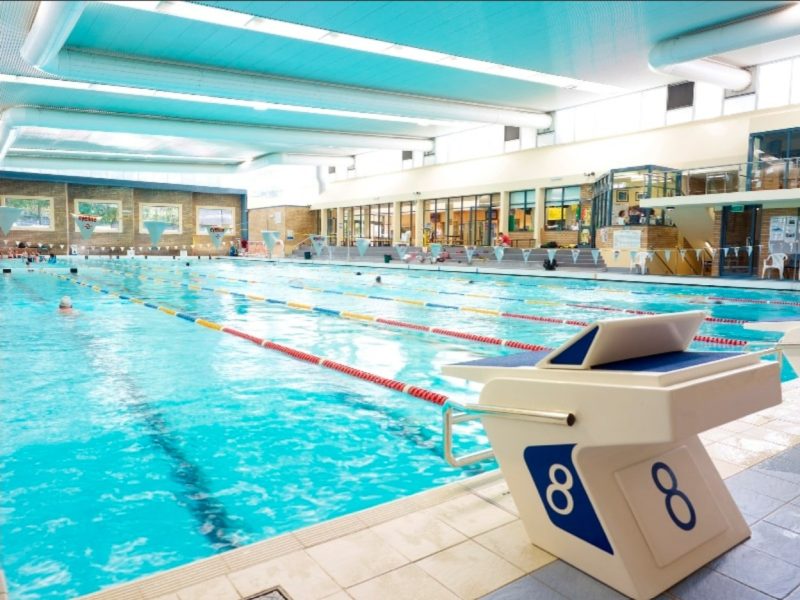 Sydney University Sport and Aquatic Centre (Noel Martin)
Sydney University Sport and Aquatic Centre is our home venue for volleyball, basketball, squash and netball, as well as a significant facility in our PDHPE programme. Used extensively each day throughout the year, it is a second home for many of our students.
You may be interested in
Libraries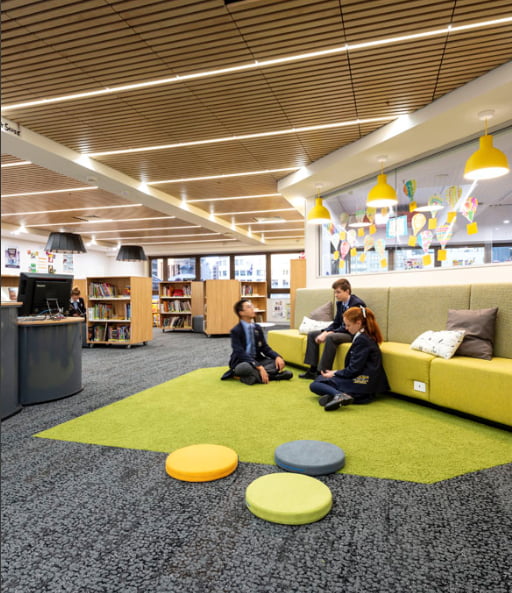 The St Andrew's Library team works over three well-resourced library spaces, two in St Andrew's House for the Junior and Middle Schools and the Senior Research Centre in the Senior College. This is to ensure that students in each area of the school have access to libraries that are close to their classrooms appropriate to their age and stage of development and central to the life of each school.
In 2019 the School was awarded "Highly Commended" in the Australian Library Design Awards – these showcase the best in contemporary library interiors and exteriors in Australia.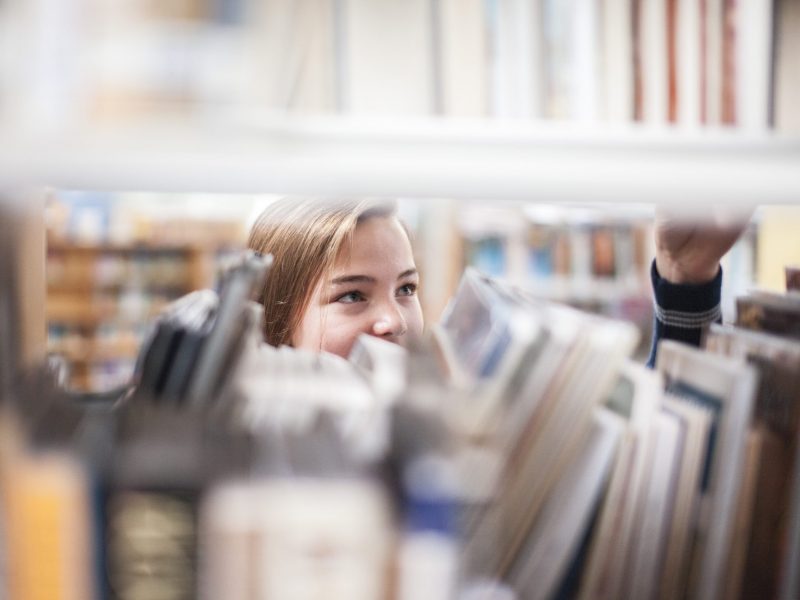 Each library has a number of functional learning spaces, including teaching areas with desktop computers, small group study rooms, meeting rooms and reading rooms. Students can login and access the library catalogue (to browse books, renew, reserves), access databases from the digital resources pages, and also access their subject pages with resources for topics and assignments. Our collection of books, ebooks, audiobooks and magazines are constantly updated.
The following clubs work in and around the libraries:
Junior School book clubs (Stage 2 and Stage 3)
Middle School book club (Years 7-9)
Senior School book club (Year 10)
Knitting Club
Eco Club
Robotics club
Girls In Tech
You may be interested in
Kirrikee Outdoor Education Centre
The school has its own purpose-built outdoor education centre called Kirrikee, in the Southern Highlands of NSW.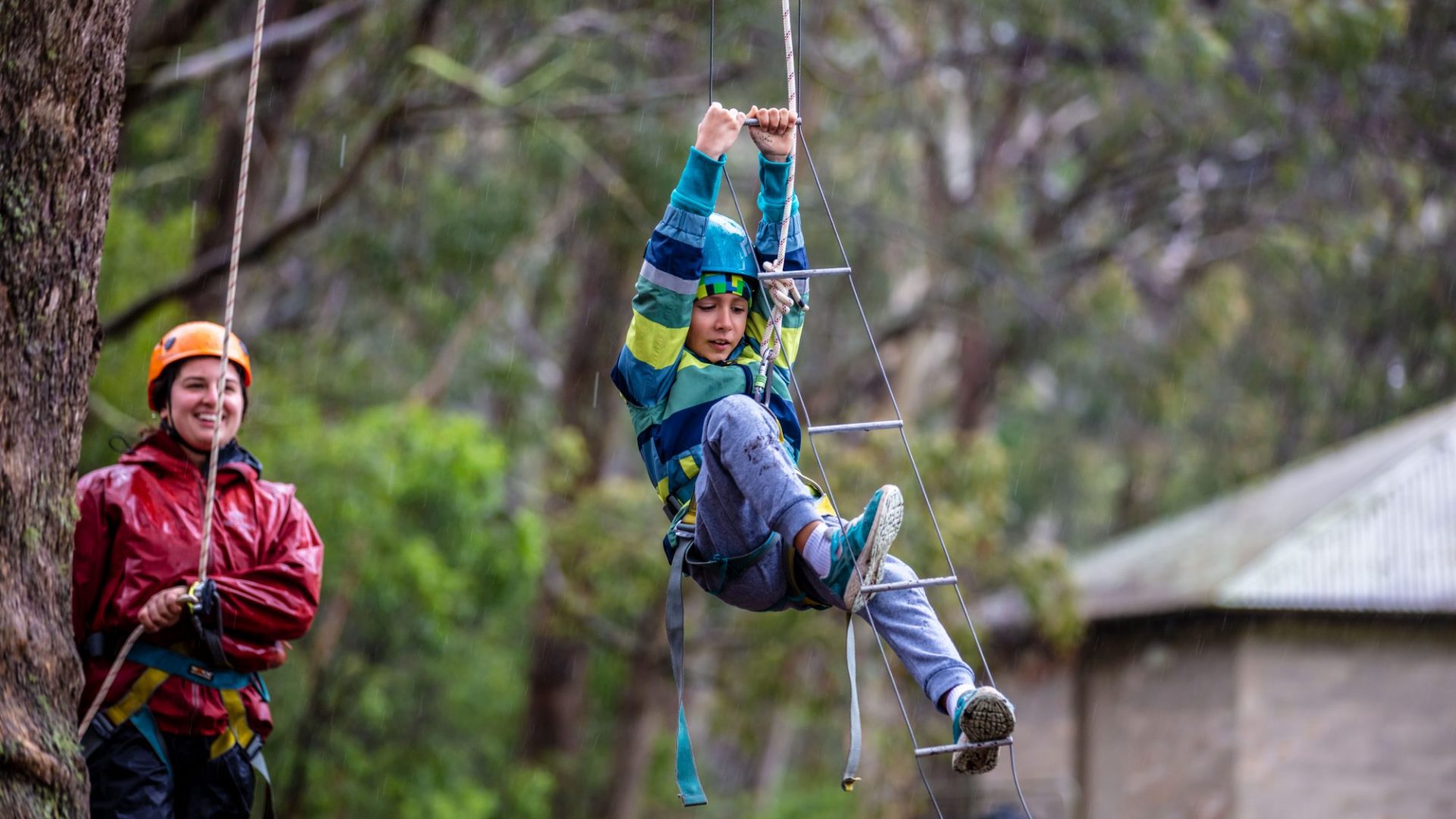 Kirrikee Outdoor Education Centre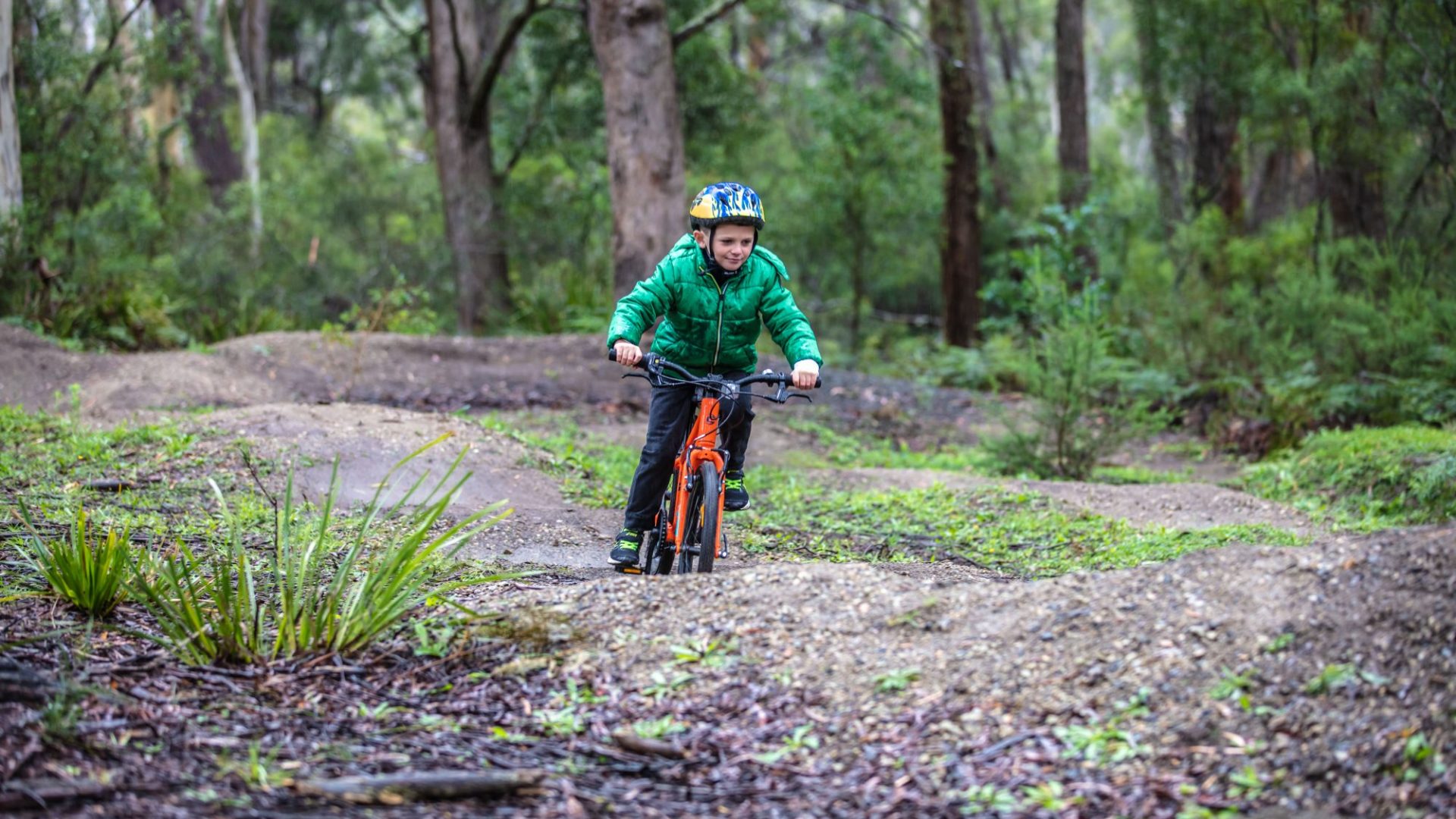 Kirrikee Outdoor Education Centre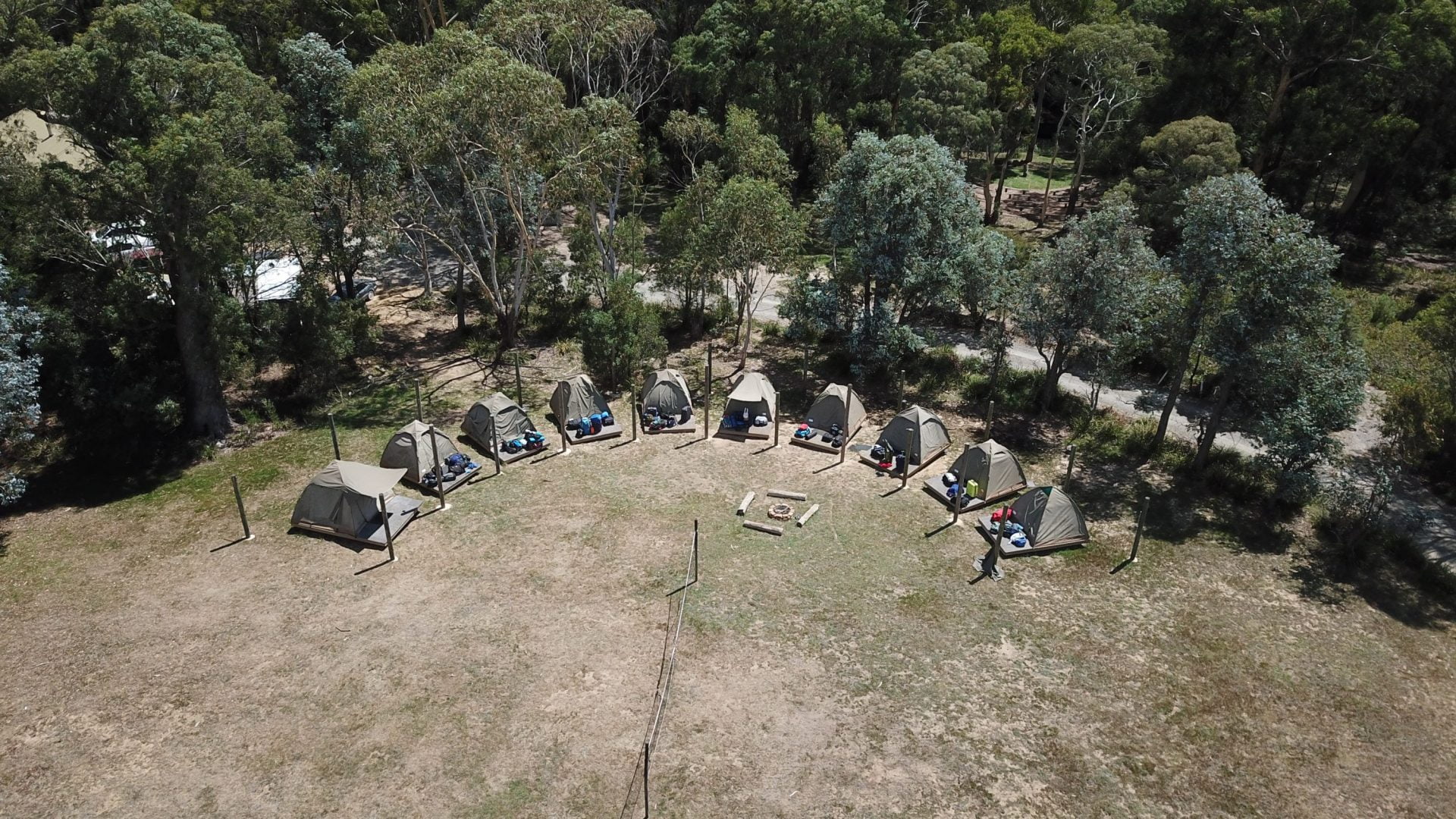 Kirrikee Outdoor Education Centre
The property is a combination of rolling, cleared grazing country, bushland and wetlands that is bordered to the north by Paddy's River and comprises a collection of communal buildings that complement the natural bushland and provide wonderful areas for groups to meet and mingle. It has housing, dining and a host of activities enabling students to experience a wide variety of outdoor pursuits which take learning beyond the classroom.
Kirrikee has two tent villages which provide comfortable, elevated and safe sleeping areas and a sense of adventure for people who may never have camped before, plus a separate building with bedrooms for staff.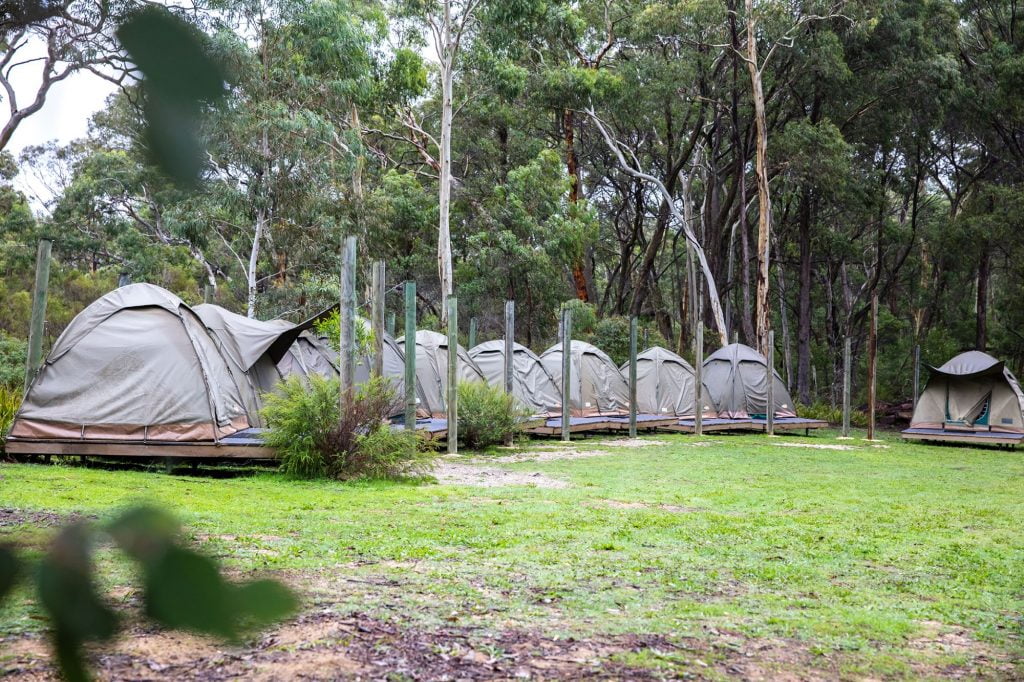 Kirrikee is designed with a focus on simplicity, providing everything required for a safe and enjoyable experience without many of the distractions of modern life, suitable for groups of 25 to 120 people. It is focused solely on delivering high quality Outdoor Education programmes to students, planned and run by our in-house Outdoor Education Department.
Some of the activities available to students on site at Kirrikee include abseiling, high ropes course, bushwalking, mountain biking, rogaining, orienteering, billy carts, key log rolling, canoeing, initiative games and table tennis.
Permanent facilities on the site include a commercial kitchen, a large dining room and lounge with wood burning fireplace, outdoor chapel, staff accommodation and tent villages. Further camping areas are spread throughout the site with large gazebos also available.
You may be interested in