There are a wide variety of co-curricular activities offered outside of the Sport and Performing Arts programmes.
Start Up
Each year, Years 5-12 students are invited to participate in StartUp, a semester-long intensive co-curricular programme, which sees small groups of students learn about the process of being an entrepreneur. Partnering with experts in the entrepreneurial and start-up space, students receive hands-on guidance in the step-by-step development of their idea. At the end of the programme, a Finale event takes place, where finalists pitch their idea to a panel of external judges who examine the process undertaken by each team. Awards are presented to those teams whose ideas have advanced dramatically from the initial idea and have demonstrated the skills and passion needed to be a successful entrepreneur.
This hands-on programme helps establish a culture of enterprise at the School and develops an entrepreneurial spirit in students who are willing to be courageous and learn how to take guided steps towards developing their ideas with innovative solutions.
Problem-solving, entrepreneurialism and leadership are all skills embedded in the StartUp programme, equipping students with unique skills that can be utilised throughout their time at St Andrew's Cathedral School and beyond.
StartUp has three divisions, based on year groups – Juniors (Years 5-6), Intermediate (Years 7-9) and Senior (Years 10-12). Each division learns skills appropriate to their age and stage of development and ensures students can continue to grow their depth of knowledge and entrepreneurial skills, year after year.
MakerSpace
Held on Friday afternoons, MakerSpace is for students passionate about design–a creative outlet where students can work on any project they imagine, from design to computer programming. It is held in our TAS (Technological and Applied studies) workroom, giving students access to a great range of digital technologies. All students are welcome from Year 7-12 with any amount of prior experience.
Shared projects have included making pyjamas, or creating computer games with students encouraged to define their own project in the workshop. They can also receive guided help for existing in-class projects.
Other co-curricular activities available across the Secondary School
Weekly training is followed by competition against other NSW schools.
Theatresports: this form of improvised comedy sees teams of participants create a one-three minute original scene. In Terms 2-4, teams of three-five students compete in the Theatresports Schools Challenge against more than 100 NSW schools.
This homework centre is offered by our EALD specialist staff to support the EALD and international students with targeted English support through group and individual support. International students are mandated to attend this homework centre as a condition of their enrolment.
A weekly lunchtime club where students create initiatives that endeavor to lessen the environmental footprint of the School.
A Monday afternoon club for students from across Middle School and Senior College, offering personalised tuition from an experienced contemporary artist. It is hosted in a relaxed studio environment and is a lot of fun for all.
The F1 in Schools STEM Challenge is the world's foremost student competition for Science, Technology, Engineering and Mathematics. Groups of students engage with engineering and manufacturing disciplines to design, make, analyse, test and race a F1 C02 powered car.
Girls in Tech: This activity aims to promote coding, tech, innovation, computer science and related fields as potential options for young women. Girls in Years 5-9 are mentored and supported by female teachers and girls in the Senior College as they learn about coding and build their confidence and interest in related fields.
StartUp: Students work independently or in teams to develop a business idea that they then pitch to judges in a bid to win funds to get their business off the ground.
Vex IQ Robotics: Students work in teams of two to five to design, build and programme a robot for the Vex IQ Challenge. This is an international competition with new twists added annually to keep students engaged and challenged.
A weekly lunchtime club where students are helped in knitting blanket squares for an Anglicare charity.
Maths Club is for senior students who are seeking assistance with particular aspects of their maths programmes, assignments or assessments.
This is only open to Year 11 and 12 students. Students are selected for the team who are then trained and enter a knock out competition.
There are numerous music ensembles that students can participate in, as well as individual tuition.
A free drop-in homework club run by the Specialised Learning staff and specialist support staff from Maths and English. It's particular aim is to offer support to students who have learning needs but it is open to any student who would like to access support. Help is offered specifically around organisation and support for student's homework, hand-in assessments and preparation for tests and exams.
The Science Club gives students the chance to pursue amazing science learning opportunities that are not in the current Years 7-10 teaching programmes and do some exciting and innovative science. This is part of the school's commitment to growing real, authentic, relevant science at St Andrew's.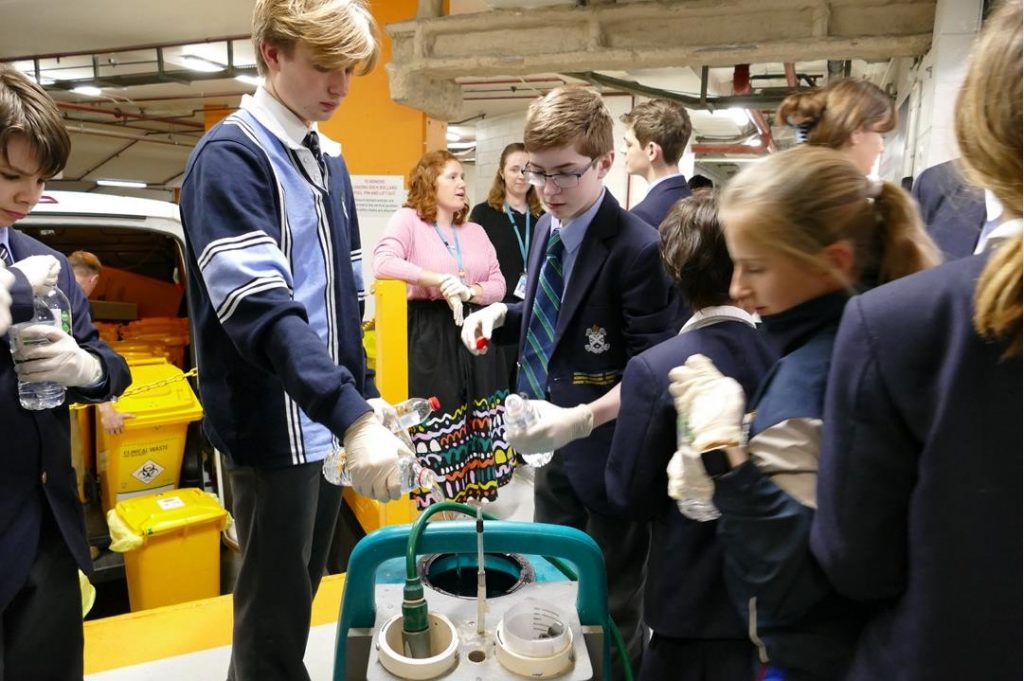 You may also be interested in