Working at St Andrew's Cathedral School and Gawura means you will be joining a value-aligned and purpose-driven organisation with a highly engaged, passionate, collaborative team of teachers and support and operations staff.
Founded in 1885, St Andrew's Cathedral School was established to provide twenty-two chorister boys with a first-class education based on Christian principles, together with rigorous musical training.
Today, St Andrew's Cathedral School and Gawura provide over 1400 students, both boys and girls, with a first-class education based on Christian principles, together with a broad range of cocurricular opportunities, including our world-class performing arts programme.
Awarded 2022 5-Star Employer of Choice award by The Educator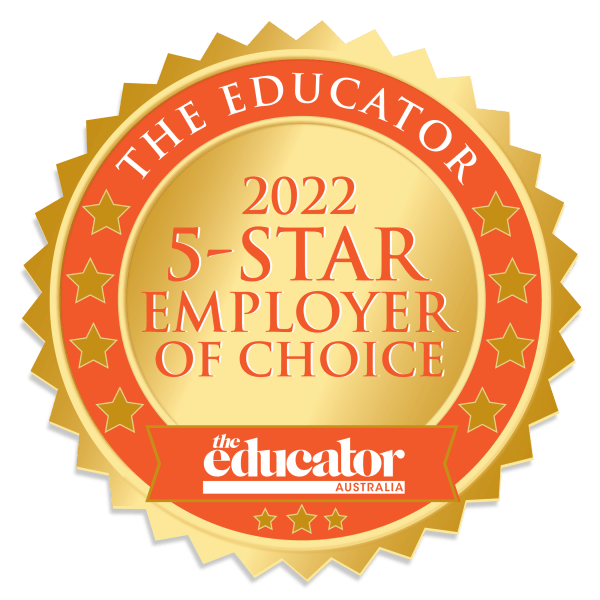 St Andrew's Cathedral School has been named as a winner of the 2022 5-Star Employer of Choice award by The Educator.
The Educator invited all schools operating in Australia to self-nominate based on their initiatives and achievements across a number of key areas critical to a positive employee experience including remuneration; training and professional development; career progression; diversity and inclusion; access to technology and resources; communication; leadership; work-life balance; health and wellbeing; and reward and recognition. Schools were also required to demonstrate low rates of staff turnover and high rates of tenure and employee engagement.
The School is thrilled to be recognised as a 5-Star Employer of Choice by The Educator based on this criteria – and is one of only four schools in NSW to receive the award.
For more information on the award and criteria, click here.
Winner of Voice Project's Best Workplace Award 2020
Our School was awarded the honour of Voice Project's Best Workplace Award 2020 for staff satisfaction and engagement, representative of a supportive, collegiate culture where staff feel known, valued, and equipped to excel in their roles. Thriving, engaged teachers equate to engaged and higher achieving students and a positive, flourishing learning environment.
With more than 180 teaching staff and 100 support and operations staff, St Andrew's Cathedral School and Gawura are places where careers are forged, nurtured and enhanced.
What drives us?
The fact that the School has remained true to its original vision throughout the last 135 years is testament to its deep-rooted sense of conviction and calling as a school.
Our staff are deeply committed to an authentic Christianity that is engaging, relational and integrated through all areas of school life.
Our Christian convictions mean we don't just attend to the physical, but also to the metaphysical. The big questions that relate to convictions and the soul are of vital importance to us. We believe the claims of Jesus Christ are of fundamental importance and offer meaning, purpose and joy to both students and staff alike. We want to consider not just the physical, intellectual or emotional needs of our students, but also the spiritual and moral. We want our students to be able to think and debate about the things that matter most: Who or what is God?; Who or what am I?; Does life have purpose?; and What does it mean to live a good life? Our staff are deeply committed to the School's Christian mission, value the relational nature of teaching in our unique city context and are fully involved in the character development of our students.
Critical to the success of a school is the place of teachers – we value our teachers as experts and masters of their craft, with deep subject and pedagogical knowledge. This is the bedrock of all that we do.
Many of our teachers are invited to present at state and national educational conferences and professional associations, and as an educational leader, we hold conferences, host international experts and encourage thought leadership. Our two online Research Conversations conferences provide our teachers with opportunities to attend and/or speak in a breakout session with an international audience. Each conference has a unique focus on either research-informed practice in a Christian context or research-informed classroom and school practice.
Our TeachMeet meetings held each term are fun, informal, collaborative experiences organised by educators, for educators, to share ideas and experiences. The focus is on sharing ideas through short presentations with teachers attending as a participant or a presenter.
St Andrew's Cathedral School supports teachers working towards accreditation as Conditional, Provisional, Proficient and Experienced Teachers through focused and in-depth bootcamps, Q&A sessions and ongoing professional learning experiences. The St Andrew's Cathedral School's appraisal process ensures that staff plan their professional growth. Teachers use the Australian Professional Standards for Teachers (APST) and advice from colleagues to identify and plan individual professional learning goals as well as ensure reflection on improving pedagogy. All teachers are annually appraised against the School Goals and are observed teaching their lessons once a semester through the Learning Walks observation method. These observations and collegial discussions and feedback contribute to the staff member's reflection on the Appraisal process.
Our highly professional support and operations staff are experts in their diverse fields including Information Technology, Finance, Risk and Compliance, Uniform Retailers, Marketing and Enrolments, Health Centre Nurses, Facilities and Security, People and Culture, Community Engagement, Teaching Support's, Personal Assistants and value add Administrators. Demonstrating a thorough understanding and commitment to the core values of the School, they work collaboratively to support and add value to all facets of teaching and learning; develop and lead teams who have a positive impact on the School, and enjoy deep relationships with teaching staff, students and the community.
Staff wellbeing is a strategic priority for the school's leadership. A positive, collegial climate is evident across the School, with staff respected as trusted professionals who each make a significant contribution to all aspects of school life. We are proud of our high rates of staff engagement and wellbeing which provides the platform for a positive school and classroom climate, a driver of student learning and wellbeing.
School leaders work collaboratively with staff in order to manage staff workload, affording flexibility in order to create a sustainable work-life balance, which is embedded into school operations and policy.
25% of staff occupy promotional positions, such is the emphasis on supporting promotional pathways and career progression within the School.
Our performance appraisal systems capture career development, planning and opportunities which are supported by the School's professional learning offering, for both teaching and support and operational staff.
A culture of developing and promoting from within exists within the School and is a testament to the quality of our staff and the School's support of staff growing into a variety of opportunities, including promotional roles, leading and participating in strategic committees, coaching, mentoring or other developmental projects.
Our focus on excellence in teaching practice includes a highly experienced team of mentors and Learning Coaches. Our teachers engage in regular Lesson Observations and receive helpful feedback so that we can learn from one another's expertise in the classroom. Teachers can access Professional Learning that is relevant to their context and skill development, both internally and with leading external providers, such as the International Baccalaureate Organization. We have invested in Growth Coaching for teacher professional development, and all new teachers receive a time allocation to access coaching in their first year at the school. Coaching allows our teachers to engage in deep reflection of their classroom teacher practice, learn how to implement a "St Andrew's Cathedral School" approach, as well as student learning and current educational research.
At St Andrew's Cathedral School we have a Teaching and Learning Model informed by well-evidenced research, providing clear guidance as to how we plan, teach, and evaluate learning at the School.
Our support and operational staff are supported in accessing professional learning on a weekly basis, and have access to the comprehensive learning management system of LinkedIn Learning, covering business, technical and creative competencies, used by 78% of Fortune 500 companies.
We are an inclusive school. St Andrew's Cathedral School and Gawura benefit from being in the heart of the city and serve over 230 suburbs. The School hosts a multitude of nationalities and cultures and is intentionally bi-cultural in nature with our award-winning Gawura, being one of a kind in its integrated model of schooling. This diversity of background is an education in itself. Each child is provided with a community of belonging that nurtures individual strengths so that they can be the best version of themselves.
Our city location also provides endless opportunities to expose students to innovative educational opportunities not available in other schools.
Staff benefits
The benefits of working at St Andrew's Cathedral School are numerous. There are weekly professional development sessions as well as financial benefits such as salary sacrificing and packaging, along with discounted Tuition Fees for children of permanent staff.
We have a diverse range of facilities available for staff to use, including our Outdoor Education facility, Kirrikee, located in the Southern Highlands (which can be hired at low cost for holiday accommodation) and a fully equipped weights and gym room. Our Fitness Supervisor is able to design a personal fitness programme for staff members.
Development opportunities include:
Staff mentoring and buddy system for new staff
Collaborative Learning Inquiry Teams
Professional Development seminars – weekly during term
Performance reviews for teaching, support and operations staff
Accreditation support
Post-graduate study support
Leadership opportunities through mentoring and coaching programmes
Invitations to attend regular seminars and keynote addresses by leading educators and other relevant speakers
School-provided laptop/iPad
IT support provided by ICT Teaching and Learning Integrators
Access to School Library resources (print/DVDs)
Health and wellbeing related initiatives:
Wellbeing Committee installed to represent staff voice and implement whole school wellbeing initiatives
Access to a modern gym with strength and conditioning programming expertise
Free 'flu vaccinations
Staff awards and recognition celebrating staff who have served the school for significant periods of time. (Recognition certificate and gift presented at Prize Giving Night and a dinner hosted by the Head of School)
End of term social function, hosted by the Head of School
Financial and related benefits:
Annual staff research scholarships
Salary packaging
Voluntary superannuation contributions
Superannuation and financial planning seminars
Choice of superannuation fund (nominated by the staff member)
Generous Long Service Leave entitlements.
17.5% annual leave loading
You may be interested in