Year 12 (2021) student Amy Diaz has put the design thinking skills taught in the school's StartUp entrepreneurial program to real-life use, winning a UNSW high school Hackathon competition.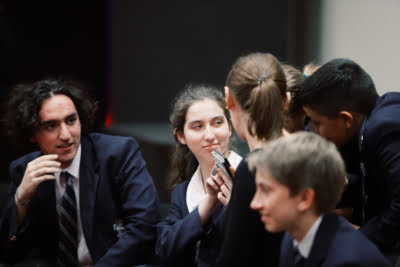 Working as part of a small team of students from all over Sydney, Amy developed an app which she describes as a mix between Facebook Events and ticket management software, acting as a social platform to drive people to events, increase connections and grow community.
The team worked intensively over two days in the recent school holidays to come up with the concept, design the app, and produce an investor pitch, all via Zoom video conferencing. Amy said they began the 48 hours by discussing roles and working out a plan, and stayed on a video call almost all day, chatting as they needed.
Amy said she wouldn't have participated in the program – let alone won – if it weren't for the entrepreneurial guidance she was given at St Andrew's Cathedral School.
"I feel like I owe a lot of what I've learned, and an interest in entrepreneurship, to doing StartUp in Years 9 and 10," she said.
StartUp is an extra-curricular program run by the school which empowers students to come up with an idea to a community or social problem, and turn their idea into a business reality, with expert mentorship from teachers and external mentors.
Amy has participated in StartUp each year, since its inception in 2018. In September this year, she and her teammate Ronin Kennedy won the People's Choice Award for their Mandelbot tech innovation, which facilitated an easy way for businesses and customers to connect.
"After doing the SACS StartUp program, I have had the confidence to do a bunch of other hackathons that have been super fun," she said.