SACS Factor rocked the school today as students from Years 7 to 12 danced, strummed, drummed, sung and even rapped in front of a packed Cathedral and Chapter House.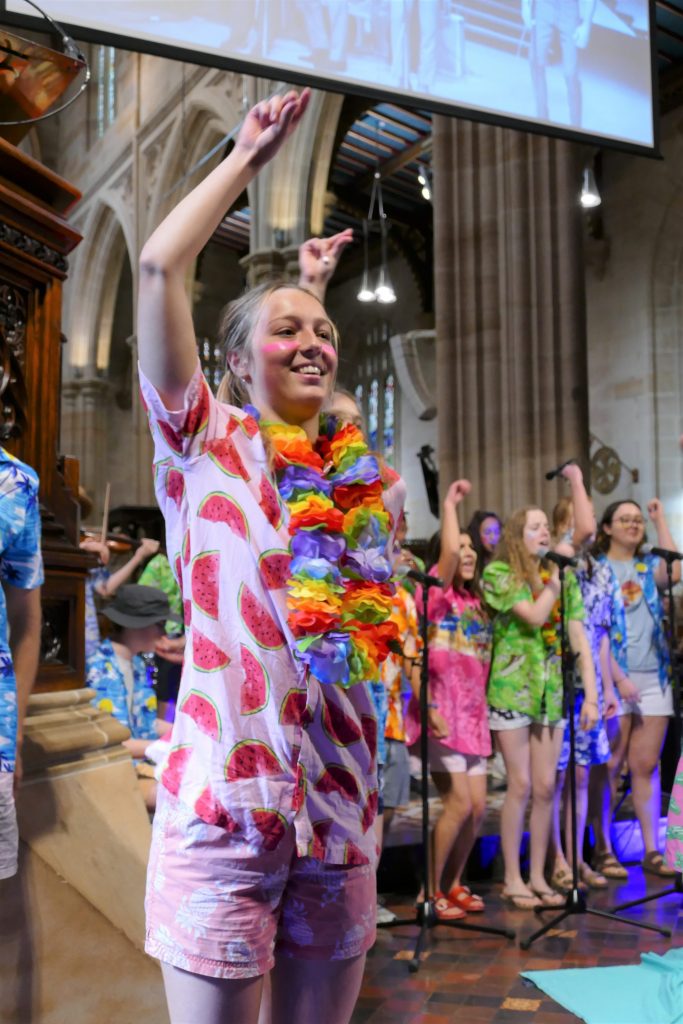 An enthusiastic audience was treated to a smorgasbord of songs from across the decades on Tuesday morning. The annual house-based competition is a major highlight of the school year with students preparing for the event weeks in advance. Each house is tasked with entering two acts into the competition and both acts are performed in the SACS Factor Heats. The best act from each house is then selected to perform in front of the school and a panel of judges in the Finale.  
York, Winchester, Durham, St Paul's and Hereford went old school with hits from the Beach Boys, ABBA, and Elton John. Westminster and Canterbury brought us into the 2000s with Pink's So What and Junior Senior's Move Your Feet, respectively. While Salisbury kept it contemporary with The Weeknd's 2019 chart-topper Blinding Lights.  
The competition was fierce with houses combining a variety of multi-media elements within their performance in an effort to catch the judge's attention. "It was a lot of work," said Salisbury House Captain Tim Moore. "We were meeting up after school and on the weekends. We wrote the parts for the music but it was all worth it in the end because it was really fun," said Tim.  
The hours of rehearsal paid dividends for the performers who greatly impressed the judging panel and thoroughly entertained the audience. SACS Factor judge Emma Franklin (OA2012) was struck by the quality on show. "The bands were super tight, the dancing was fantastic, everyone had great chemistry and they all performed with a smile on their face. It was really nice to see everyone enjoying themselves," Emma said.
The event was a wonderful celebration of our talented students who used their skills fearlessly. They're already looking forward to rocking-on next year.
The winner of the SACS Factor Finale will be announced next Thursday. You can cast your vote in the People's Choice Award by contributing a donation towards the work of South Sydney Anglican Church. Support your favourite house now https://www.charidy.com/cmp/sacsfactor.