In this piece, Dr John Collier reflects on his past 12 years as Head of Gawura School and shares 10 of his key learnings in light of his departure from St Andrew's Cathedral School and Gawura at the end of 2021. This talk was delivered at the National Indigenous Education Summit in October 2021.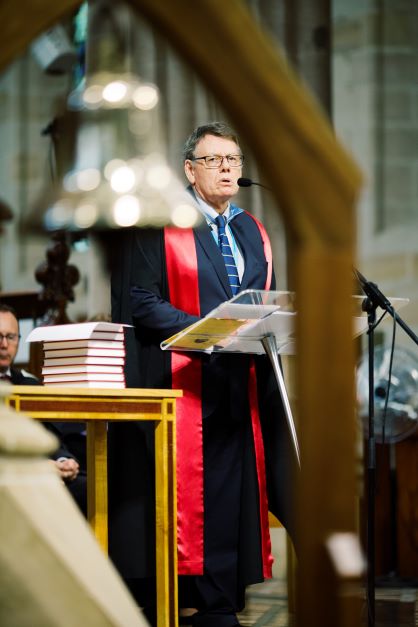 I speak as the Head of St Andrew's Cathedral School, a large K-12 school of 1430 students, and the Head of Gawura, a small K-6 entirely Indigenous school of 33 students, which graduates students at Year 6 into the secondary division of St Andrew's Cathedral School. I arrived on the scene just after Gawura was set up, to be given the task by school council of ensuring it did not flounder. Its success however is little due to me and extensively due to the excellent work of staff, parents and the students themselves. We have learned much on the journey. Some learnings are these:
1. For an Indigenous work in education to succeed, it is essential to have Indigenous involvement, partnership and reciprocity with parents and caregivers. There is a natural suspicion of paternalism, of what our Aboriginal school council member and co-founder of Gawura, Pastor Ray Minniecon, describes as 'white fellas telling black fellas what's good for them!' This of course is based on cultural experience and history of often well-meaning but ham fisted attempts to help.
2. For relationship to be established with Indigenous parents, time must be spent as a necessary precondition of establishing trust. Conversation, explanation, and dialogue is vital.
3. The starting point, the initial key to quality educational outcomes for Indigenous students, is attendance. This is an area of deficit across the nation. Our approach to this has been to make it easy i.e. we collect our Gawura students every day from their houses by a bus generously donated by Sydney City Council. Accordingly, the first point of contact each day is the driver, who must be a great deal more than the driver of the bus. The driver is the front door of the school, an important liaison figure with families and necessarily a pastoral figure. We have achieved that through a history of some very fine people, including an Aboriginal elder, a part time Baptist minister, and another man of exemplary magnificence.
4. When we speak of 'closing the gap', we must focus on the key skills of literacy and numeracy. The gap exists often because of the intersection between Indigeneity, poverty and social issues, such that students lack an educationally rich background. Their attendance at preschool is well under those of other Australian children and so many will begin behind. Accordingly, Gawura has focussed especially on developing these key skills.
5. As our Gawura students often lack the resources and supervision at home to work effectively, we have mandated attendance at high school Gawura Homework Club three afternoons a week. Here they have tutoring, space and facilities to complete necessary work. Gawura students from Kindergarten to Year 6 also have access to the Junior School homework club, free of any charges levied.
6. No one doubts that there are systemic barriers to the educational and social thriving of Indigenous young people. For this reason, we have found it critical to provide Aboriginal mentors, both within our own school staff and externally. They can 'walk with' our students, help them navigate the terrain, and give them the benefit of the experience of having managed this journey themselves. In order to keep our students focussed and actively participating in their own education and growth in character to adulthood, we have found it wonderfully helpful to have Elders in residence, those with the cultural authority and experience to command respect and helpfully guide. In effect, we are speaking to Indigenous students through Indigenous culture.
7. As language is culture, teaching a major Indigenous language is a critical part of our program.
8. As effectively we are offering an educational journey from Kindergarten to Year 12, we have found it very helpful to involve our Head of Gawura in the whole K-12 continuum. John Ralph therefore is active pastorally and in curriculum advice for our students from the ages of four to 18. His deep knowledge of them from little children to emerging adults is a major asset.
9. Structurally, Gawura has a major transition issue from a small, highly scaffolded primary experience with generally a maximum of four Indigenous students in Year 6 in Gawura, into a huge Year 7 of approximately 170 students, where they can experience the sense of being swamped, along with cultural loneliness. The intersection of this with the onset of puberty and its attendant hormonal behaviour breaking out can be particularly charged. For this reason, we have had to insert scaffolds and mentoring in a very intentional manner at this point of transition. We have also found it helpful to commence from Year 5, some joint Gawura / Junior School classes in order to prepare students for the experience of a large school in a gradual way and in an effort to develop friendships between Gawura and Junior School students, which will help carry our Gawura students forward into productive peer groups in Year 7.
10. Many secondary teachers in a city school have no previous experience of teaching Indigenous students. Accordingly, cultural training is not only helpful but essential if they are to recognise the specific needs of these young people and deal with them with sensitivity.
At Gawura we feel we have made a contribution, at least on our local patch, and are delighted to partner with our parents and caregivers for the sake of the young people we serve.
Dr John Collier