The HSC results are in and we have so much to celebrate!
To view a printable snapshot summary of our HSC results, click here.
Our students have achieved some excellent results and personal achievements. Considering the challenges all students, staff (and their families) faced during both 2020 and 2021, this is an extremely satisfying outcome for students, parents and teachers. Some of the highlights are:
HSC Dux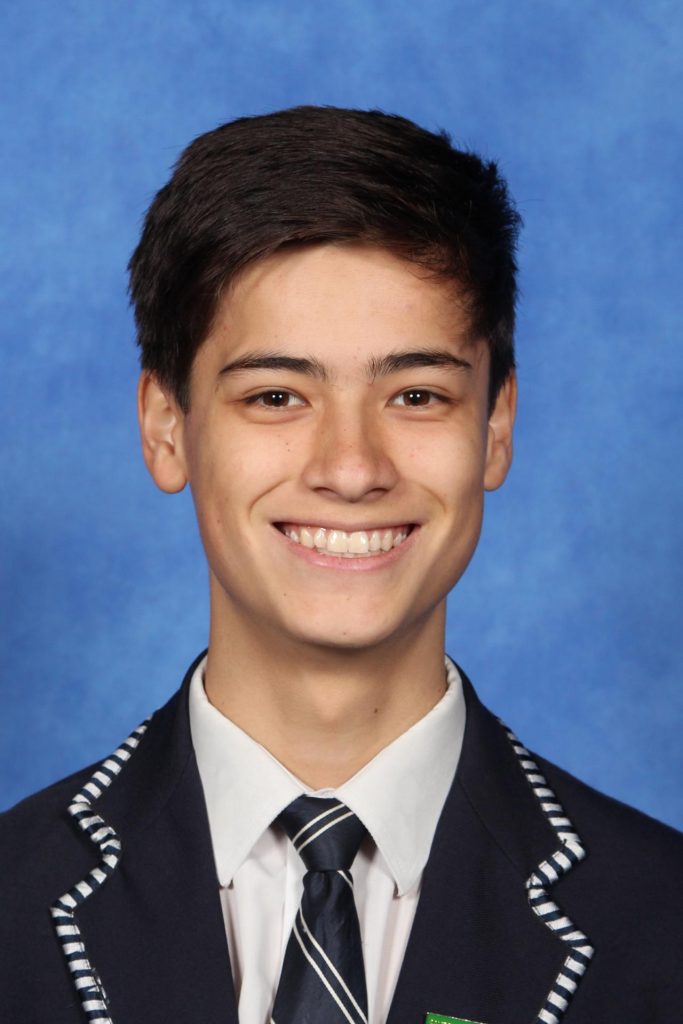 Timothy Moore (pictured) – 98.9 ATAR
Full Marks (100%) in a subject:
Lillian Knox – Music 1
Justin Chen – Music Extension
NSW Premier's List All-rounders – those with 10 or more Units of Band 6:
Madeleine Olney
Timothy Moore
Top Achievers – those who finished in the top 10 in the subject in NSW:
Justin Chen for Music 2 (4th) and Music Extension (2nd)
Lillian Knox for Music 1 (4th)
Distinguished Achievers (number of Band 6 results achieved)
Top performing students with ATARs above 90
Please note: (The following have been received from students so far … ATAR results are voluntarily provided by students). The ATAR is a ranking number out of 99.95 in terms of place in the state, so an ATAR of 99 means the student is ranked in the top one per cent in NSW.
| | |
| --- | --- |
| Timothy Moore | 98.9 |
| Jarrod Choi | 97.8 |
| Justin Chen | 97.05 |
| Zachary Whetters | 96.35 |
| Finn Howley | 96.1 |
| Olivia Vouris | 96 |
| Lucy Brownlie | 95.8 |
| Lilian Knox | 95.55 |
| Tom Baxter | 95.15 |
| Maddie Olney | 95.05 |
| Lara Davies | 94.85 |
| Harry Windsor | 93.15 |
| Flynn Collins | 92.8 |
| William Varga | 92.5 |
| Ben Wong | 92.25 |
| Sasha Garland | 91.75 |
| Isaak Choi | 91.7 |
| Darcy Holmes | 90.8 |
| Ana Dennis | 90.45 |
Students selected for NSW Showcase events for their major works
Art Express (selected to be exhibited at the Art Gallery of NSW, AGNSW, Tweed Regional Gallery and Margaret Olley Art Centre):
Alexander Janoyan, Wicked Anxiety/Servant Culture.
ENCORE (Music 2 Performance at City Recital Hall on 21-22 February):
James Stewart, Why God Why?
Students nominated for NSW Showcase events
ENCORE nominations
Music Extension: Justin Chen, Performance, Viola Concerto1. Appassionato-Moderatio.
Music 2: Timothy Moore, Performance, Requiebros
Music 2: James Stitz, Composition
Music 2: Timothy Moore, Composition
OnSTAGE nominations
Individual project – Stage Design: Oliver Gallois
Individual performance: Lucy Brownlie, About a Goth
Individual performance: Matthew Gorey-Meekan, Rhinoceros
Individual performance: Olivia Vouris, Things I know to be True
SHAPE (Design and Technology) nomination:
SHAPE (Textiles and Design) nomination:
Subjects with 100 per cent of students in top two bands (5 and 6)
Aboriginal Studies
French Continuers
German Continuers
Japanese Beginners
Japanese Continuers
Music 1
Music 2
Music Extension
Science Extension
Spanish Beginners
Spanish Extension
Other high performing subjects (50-99 per cent of students in the top two bands)
Design and Technology
Drama
English Advanced
English Extension 1 and 2
Geography
History Extension
Legal Studies
Textiles and Design
Visual Arts
Chinese Continuers
Most improved subjects (against a three-year average)
Science Extension
Spanish Continuers and Beginners
I'd like to acknowledge all the HSC teachers of our 2021 cohort who, like the students they taught, faced a lot of adversity in these last two years. We know that behind each set of results (whether they feature in the headlines above or not) there are stories of courage, persistence, ingenuity and sheer grit by both teachers and students. I am also thankful to Mr David Lindsay and the Senior College team and, in particular, Eleni Tatsis our Director of Learning – Senior College and to our exceptionally talented and hard-working Heads of Department, who live every step of the journey with each class that graduates in their subject.
– Dr Julie McGonigle, Head of School