Our Junior School and Gawura students have been busy putting together an exhibition which showcases the inspirational lives of First Nations' heroes throughout history. The exhibition opened to the public this week as part of our School's NAIDOC Week celebrations. Find out what inspired the exhibition below.
"I'd really like people to recognise Eddie Mabo for his significant part in history … and the fact that you don't have to be from a certain race to be a leader."

– Year 6 student Mahe ward
Over the past few months, students in the Junior School and Gawura have been working hard in the classroom and the art room to bring to life 24 inspirational 'deadly' Indigenous heroes.
The project required students to research a hero of their choice and then use their research to construct a story about their hero's life, work and legacy. These stories have been combined with life-sized cardboard cut-outs, also created by the students, which represent their hero's physical appearance.
The result is what students and staff are calling a peoplescape. Not unlike a landscape, a peoplescape has the potential to inspire and endure. The hope is that the student creations will bring the history and significance of these deadly heroes to bear on the wider St Andrew's Cathedral School community.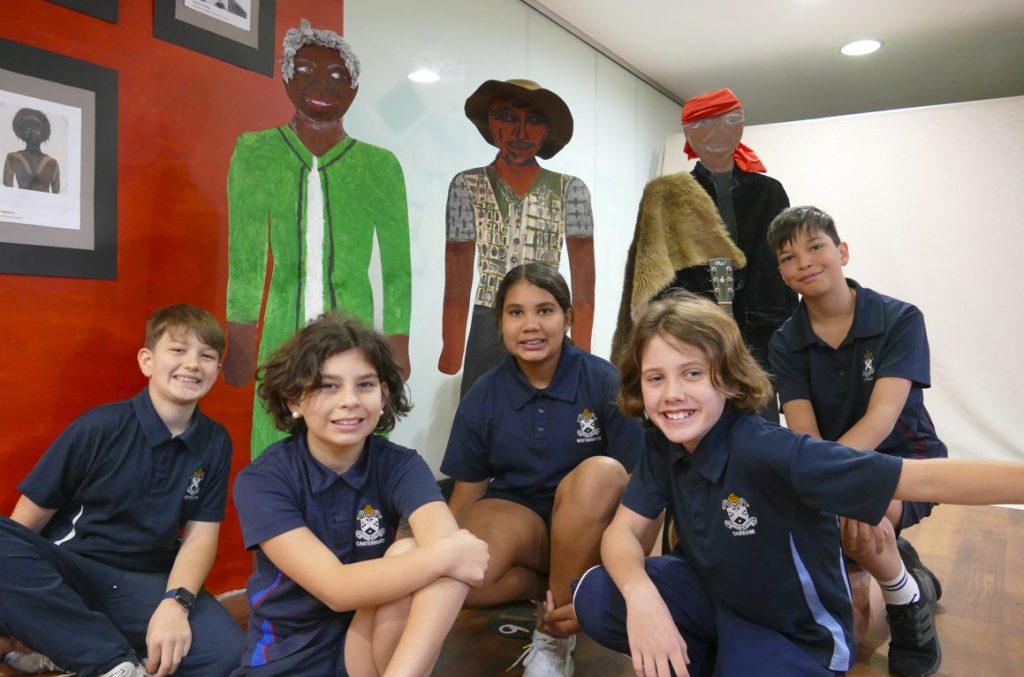 "It's an opportunity to share culture and it's also an opportunity to talk about our deadly warrior heroes who paved the way for current First Nations' people," says Junior School and Wiradjuri language teacher, Leanna Carr-Smith.
"The heroes range from different areas of our nation and our history. We go right back to some of our very first warriors, Barangaroo and Bennelong, then we go through to the Freedom Rides and those who actively fought for our basic human rights, and people who have stepped up in the sporting arena, such as Evonne Goolagong and Cathy Freeman."
The peoplescape exhibition, currently on display in the Town Hall Arcade beneath the School, was inspired by this year's NAIDOC week theme, "Get Up! Stand Up! Show Up!". The theme is a nod to the rich history of Aboriginal and Torres Strait Islander people who have fought for equal rights. According to Leanna, the opportunity to celebrate these people was too good to miss.
"All of these people throughout history overcame prejudice to achieve incredible things, whether it was fighting for a basic human right or recognising that First Nations people can excel in any area of life," she says. "We wanted to give our students the chance to really understand the impacts of these particular voices throughout our history and we also wanted our students to play an active role in educating their families as well."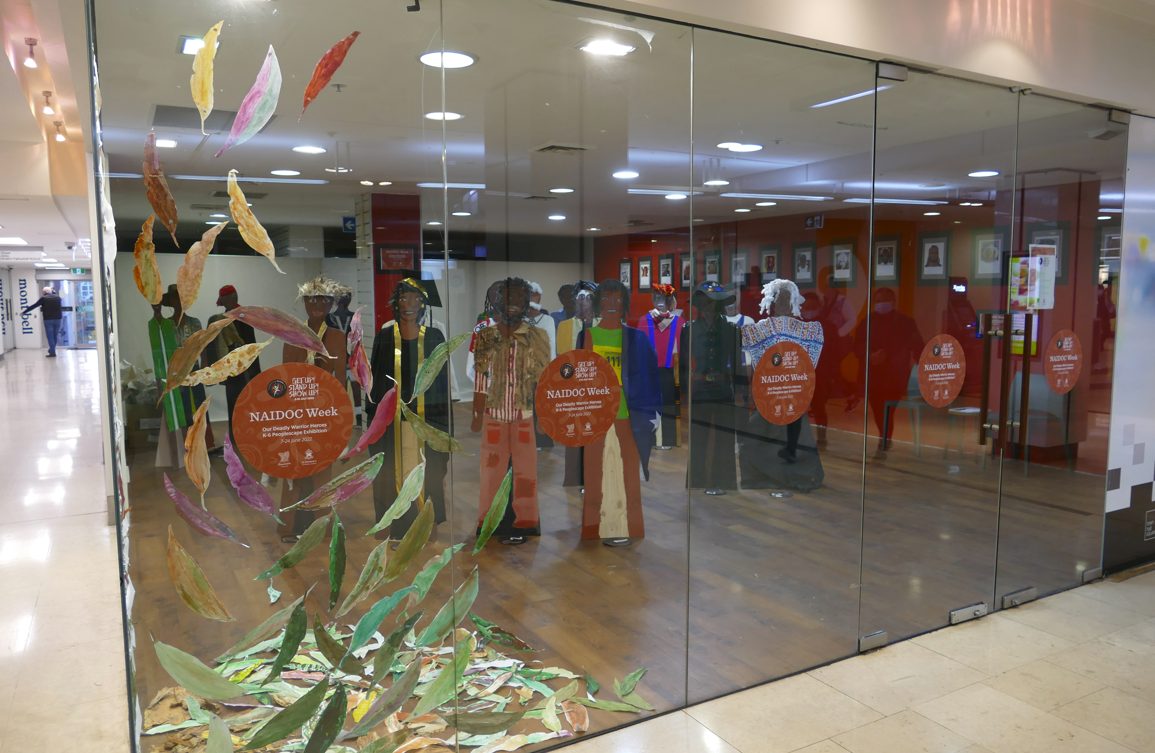 The peoplescape exhibition was held in the Town Hall Arcade.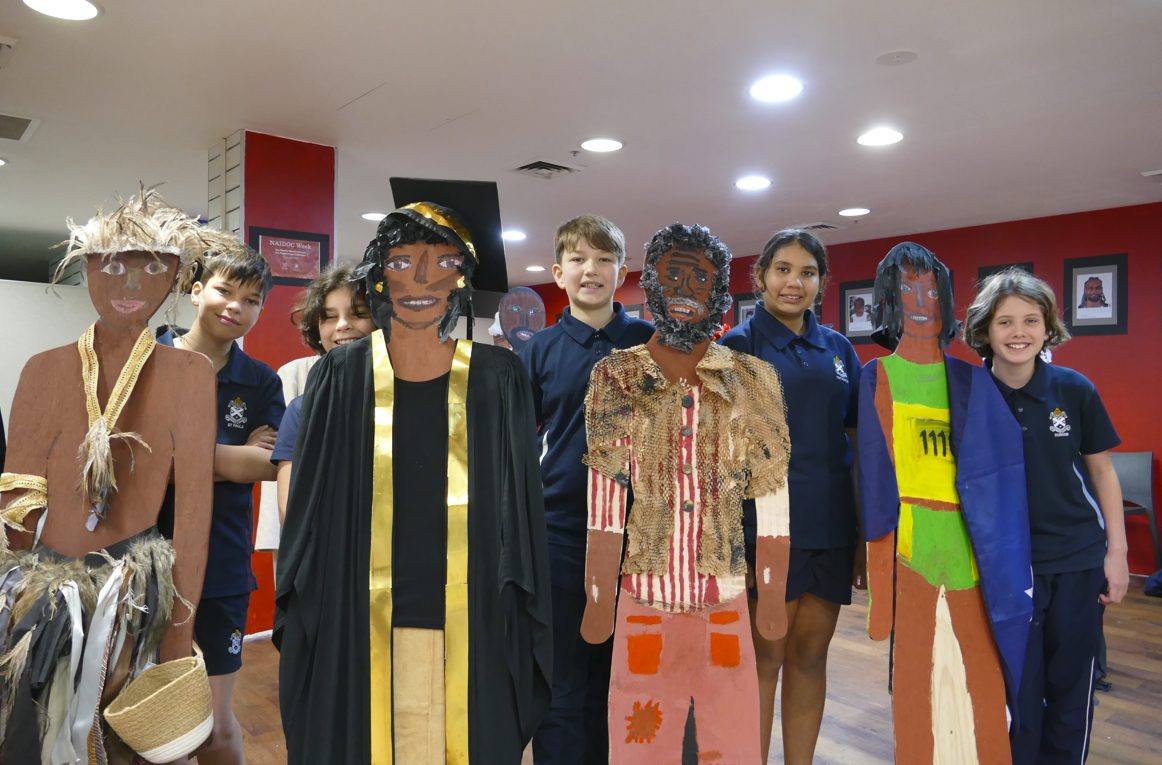 Archie, Mizpah, Mahe, Jakaylah and Casilda hang out with deadly heroes, including Eddie Mabo and Cathy Freeman
Portrait photos of the First Nations heroes line the walls of the exhibition.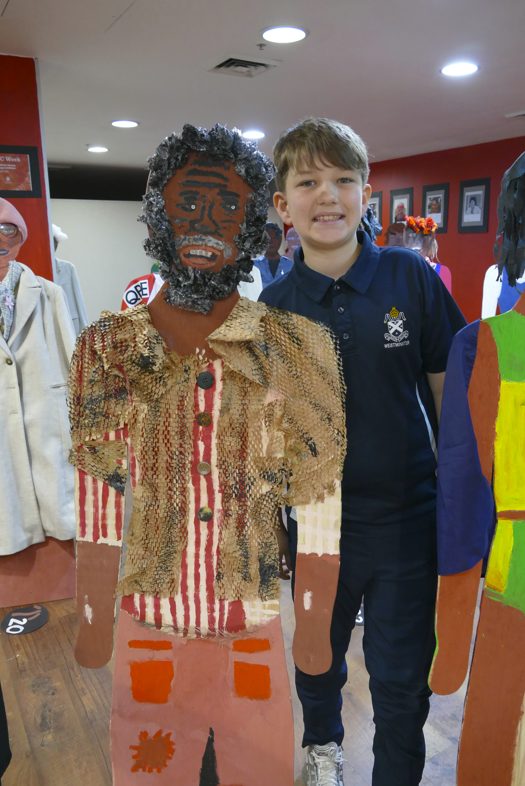 Year 6 student Mahe Ward's favourite deadly hero is Eddie Mabo. Mahe even helped put the life-sized representation of Eddie together, along with his Year 6 classmates.
"I think people should know that Eddie played a very big role in First Nations peoples' land rights," Mahe said. "I'd really like people to recognise him for his significant part in history. Also, the fact that Eddie's a leader and that you don't have to be from a certain race to be a leader."
The students have championed the exhibition with their research and artistic efforts, and they've been supported by a committed team of staff from across the school. The Junior School and Gawura classroom teachers and art teachers worked with staff in the maintenance and marketing department to ensure this exhibition respectfully acknowledged the lives of Indigenous Australians who have helped change the landscape and future of our nation.
The collaborative effort has only heightened the sense, within our school, that these heroes have something to say not only to the students who have reconstructed them, but also to the adult visitors as well.
The peoplescape exhibition is open to the public from 8.00-8.30am and 3.00-3.30pm, Monday to Friday until 24 June. It is located in the Town Hall Arcade beneath the School and opposite the newsagency.