Year 11 and 12 IB environmental science students went on an action packed educational adventure last month that spanned land and sea. In this piece, science teacher Teegan Colusso writes about the experience.
There I was standing atop a veritable mountain of sand; watching a bevy of teenagers racing across the dunes. A full moon was on the rise, taking its turn to light up the sky as the sun slammed into the horizon. It had been an absolute whirlwind of a trip.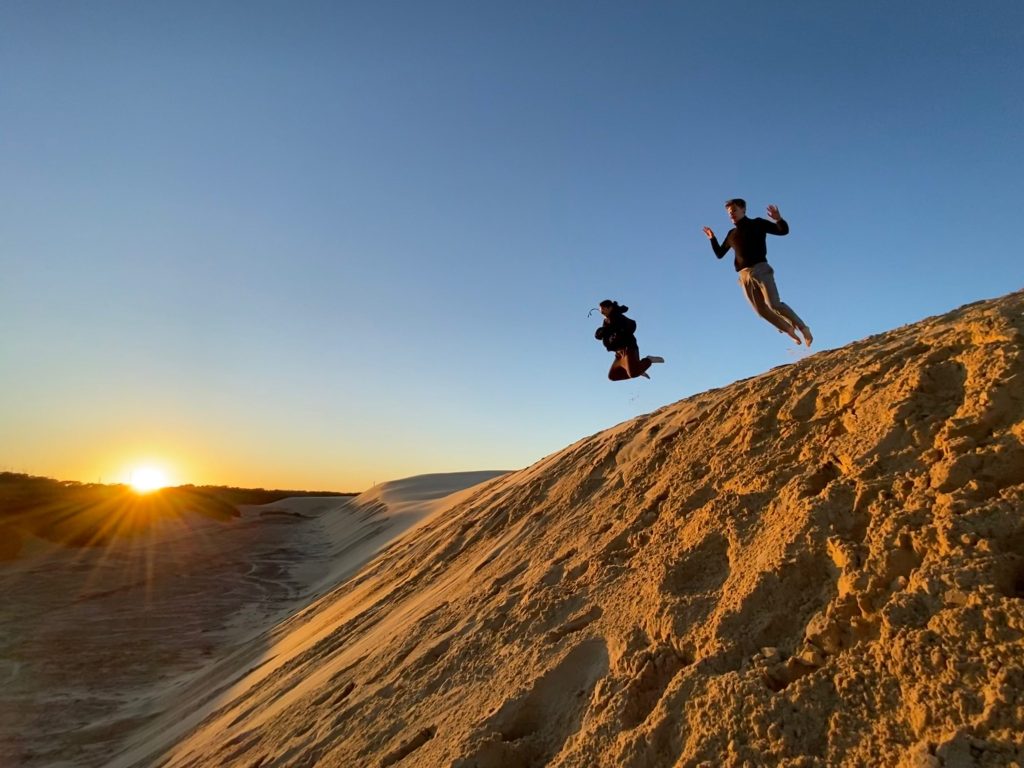 The first day started in the Hunter region where students learnt about agricultural practices from Horticulturalist Advisor Ian Tinker. Ian is a third-generation vineyard owner, winner of Viticulturalist of the Year, and living legend; initiating research and development projects across NSW.
After hearing from Ian, we jumped back on the bus and headed to a polyculture and biodynamics farm named after the Garden of Eden, where we met pigs, geese, goats, cows, bees, chickens and a couple of friendly farm dogs. The owners Kate and Mark had an absolute wealth of knowledge to share with over 20+ years experience in sustainable farming. It was amazing to be able to just pick and eat food straight off the plants!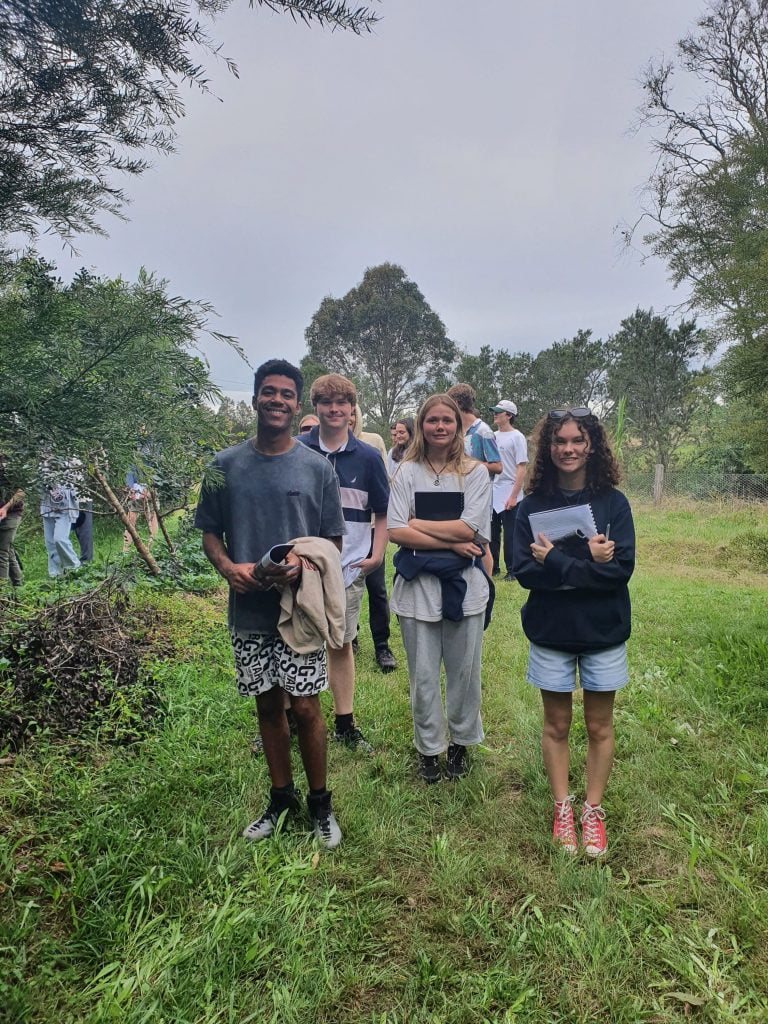 Our second day started with a chartered boat tour of a marine reserve, accompanied by wild dolphins! We were fortunate enough to spot some endangered water birds and a bob of seals. Our tour guide, Jeanie, a certified cetacean marine biologist with a wealth of local knowledge, taught us all about conservation efforts in marine parks and nature reserves.
In the middle of the day, we visited the Koala Sanctuary and Wildlife Hospital, talking one-on-one with the veterinary volunteers who help save and rehabilitate all our native animals in their wildlife hospital. In the late afternoon students slipped into wetsuits and braved the waters to swim with some rather big fish! Who knew stingrays were so slippery? Or that sharks are like puppies and love a good head scratch?
On our final day, we visited the Port Stephens Fisheries Institute to learn about aquaculture, invasive species, and the wild capture fishing industry from site manager Luke. He was so impressed with our students that he has offered to take anyone from our school on as an intern, to fast-track a potential career. We wandered around the site, spotting Kingfish over two metres long, and an oyster hatchery.
As the sun came down on our last day, I was grateful that God had provided us with such glorious weather, such courageous and kind-hearted students, and such caring and devoted staff. Lastly, I was reminded that every day we have to appreciate the little things, because one day you may look back and realise they were big things.
A special thanks to Ms Teegan Colusso and Ms Maz Bustamante for organising and attending the trip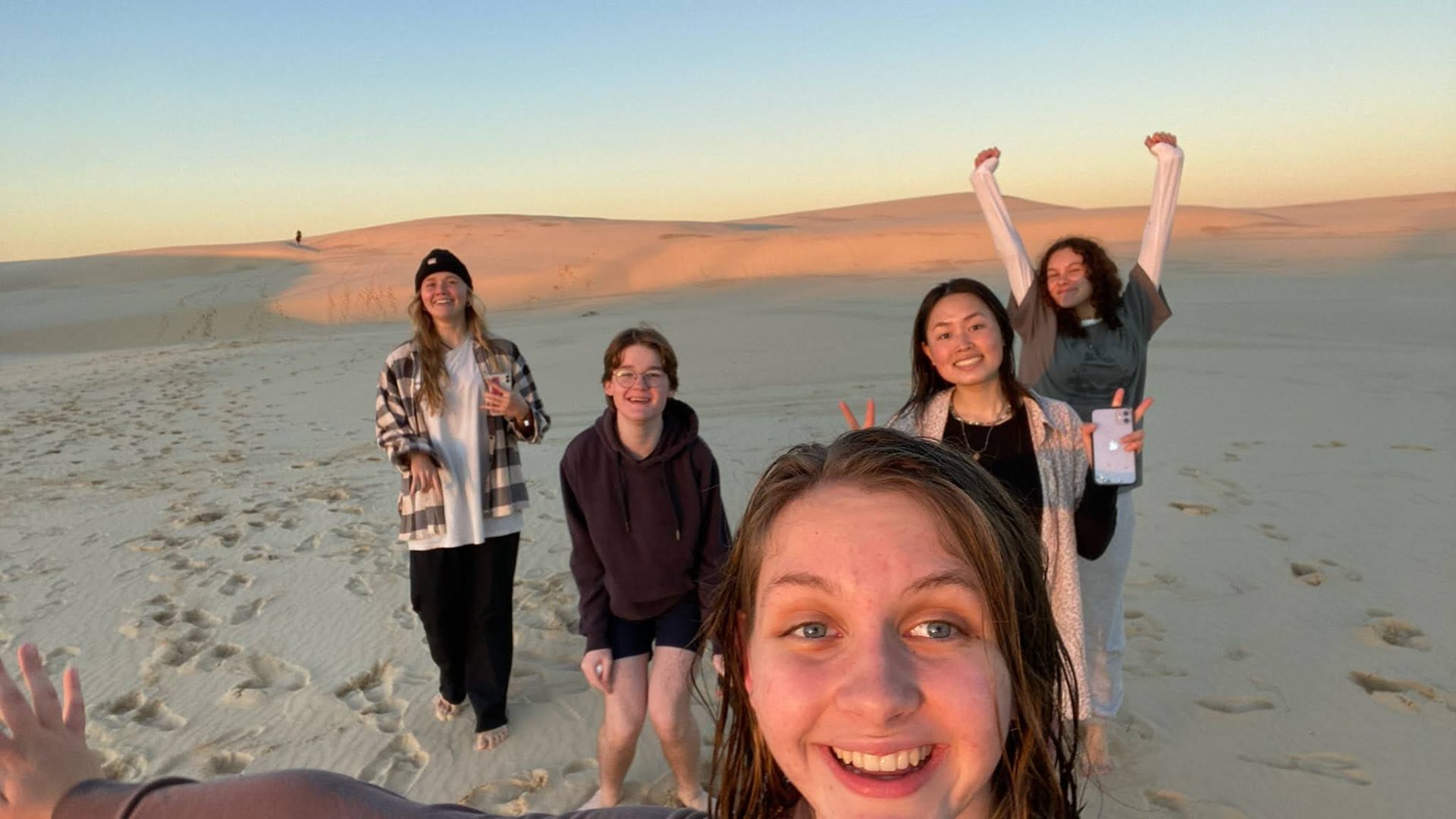 Students venture across the dunes into the evening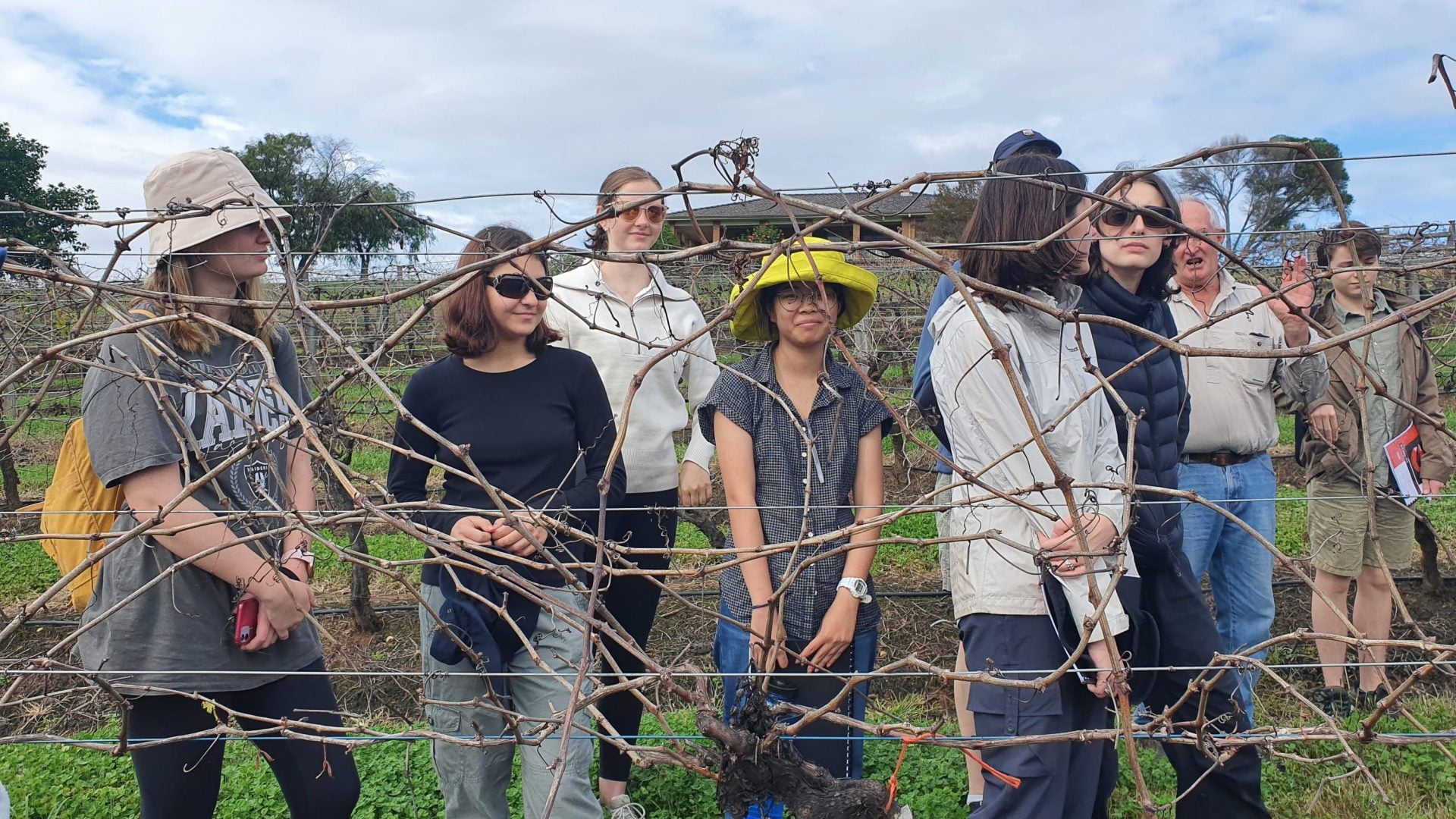 Visiting a vineyard to learn about agriculture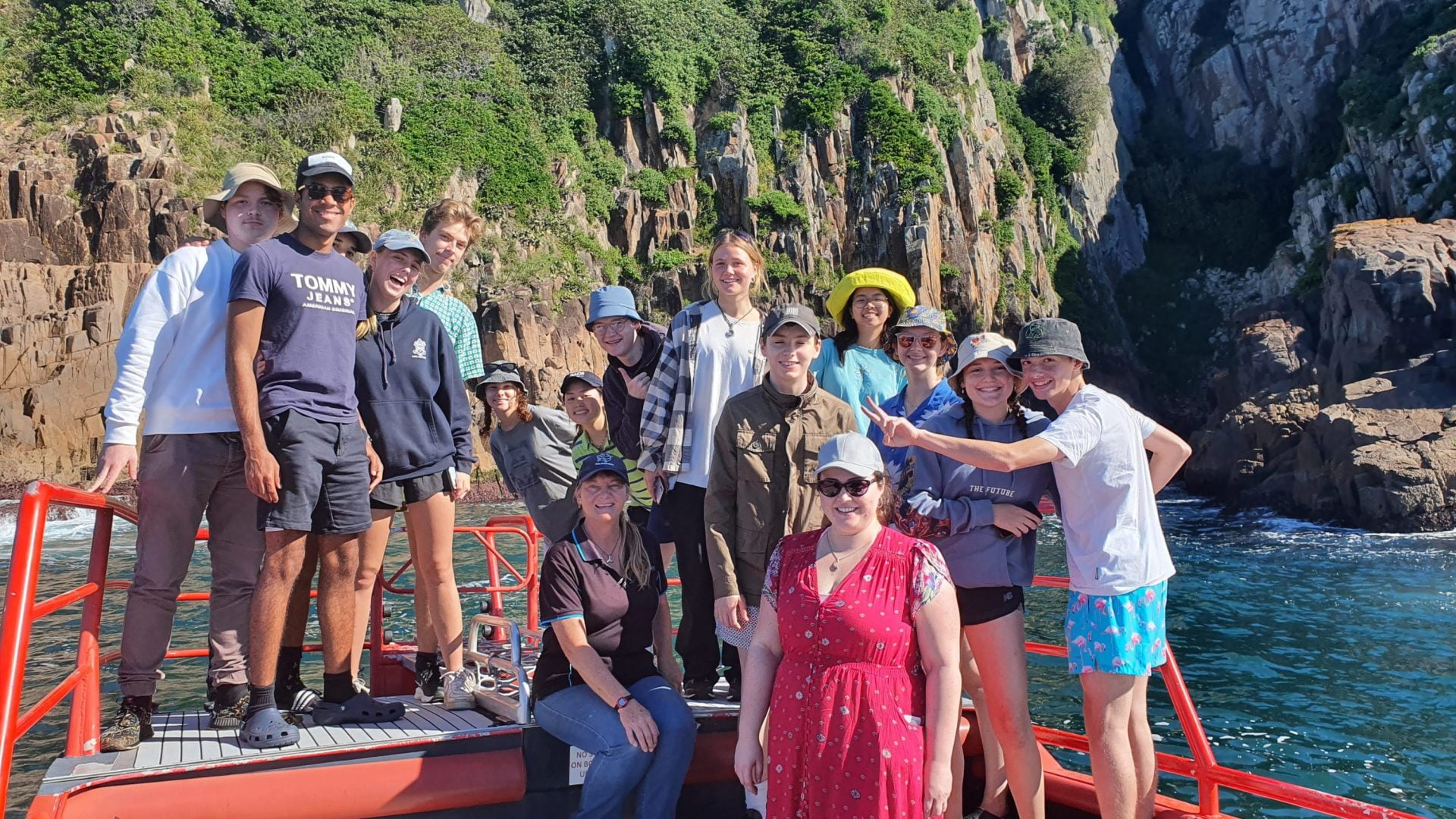 Exploring the marine reserve with wild dolphins, terns and seals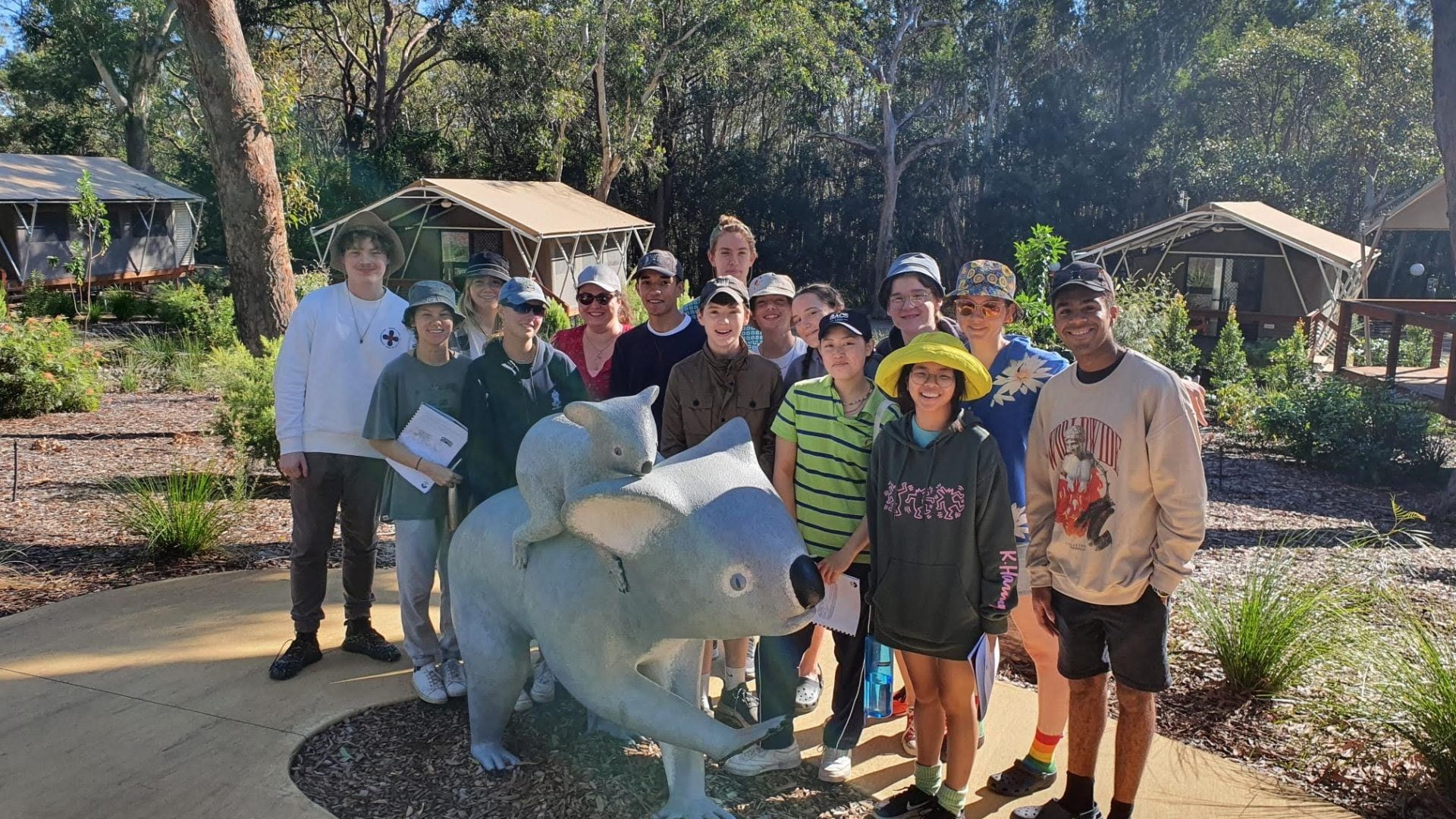 Koala Wildlife Sanctuary where some students decided to adopt a koala!