Student profile
Dylan Nguyen – 2021 School Captain and Year 12 graduate
Settling into school life was never going to be an easy task for Dylan Nguyen (OA2021). He arrived in Australia as a fresh faced seven-year-old after his family made the decision to migrate from Vietnam. He spoke very little English at the time, and quickly felt out of his depth. Once he had finally settled into primary school life, it was time for high school.
"By the time I came to St Andrew's Cathedral School I was still out of my depth because the Primary School was super small and here I was, with a group of so many other kids and I really did not know what to do with myself," Dylan said.
"I had never taken a science class before I came here. In the first lesson we were going through some safety procedures and we looked at the Bunsen burner, and that alone was enough to really freak me out."
Over time, Dylan became less fazed by Bunsen burners. In fact, he enjoyed Science and stuck with it all the way from Year 7 to Year 12. He also found new friends and a new feeling of security which allowed him to settle into a happy pattern of throwing himself into new things.
He was hiking with a group of his peers through Kosciusko National Park on St Andrew Cathedral School's 20-day Kosi to Coast expedition when the incoming fires ended the trip prematurely.
The pack-up was a simple affair; rafts were stowed, hiking shoes were replaced with thongs, and aching muscles found sweet relief in the form of cushioned bus seats. However, the easy escape struck an uneasy chord with Dylan.
"As we were leaving the bushfire area, we passed by a small rural school, at which point I realised, unlike us, the kids going to that school couldn't exactly pack-up a tent and leave," he said.
Sobered by the thought of what might lie ahead for the school, Dylan decided to do something to help.
"I did some research, which entailed reaching out to Dr Trent Penman, a bushfire management professor from the University of Melbourne, and I did some careful reading of various government reports on the bushfires. Eventually I came up with the idea of a bushfire risk map."
Being an avid programmer, Dylan used his knowledge of computer science to create a web application which categorises land area according to bushfire risk. The technology uses images captured by two European satellites, Sentinel I and Sentinel II, which orbit the earth once a week, taking photos as they go. The result is a fully functioning map which Dylan has called SatAlight.
The success of the invention has reaffirmed Dylan's belief in the magical quality of programming, namely, its unique ability to solve complex problems and bring to life some of our wildest ideas. He credits his long-time computer studies teacher, Michael Thill, for opening his eyes to programming's raw potential.
"He has really changed the trajectory of my life," Dylan said. "He helped to rekindle my love of programming. I had been doing it for a while, but I wasn't great at it, and I became pretty frustrated with it. He helped me find my love for it again, and he's always been supportive of my projects."
The programme has attracted plenty of attention, partly due to Mr Thill, who was able to introduce Dylan to the Assistant Commissioner of the Rural Fire Service (RFS), Ben Milligton. The RFS then invited Dylan to present his invention to them and they were impressed enough to now be looking at incorporating Dylan's work into their current systems.
The Australian Broadcasting Corporation also investigated and reported on the technology. Dylan fondly remembers the moment his invention was shared on national television during ABC's nightly news broadcast.
"St Andrew's Cathedral School has always been a place where I knew people would support me in basically whatever I was doing," he says. "Case in point; when the ABC News aired my story, I received so many pictures of people from school watching the broadcast. It's definitely a place where you feel supported by the whole community."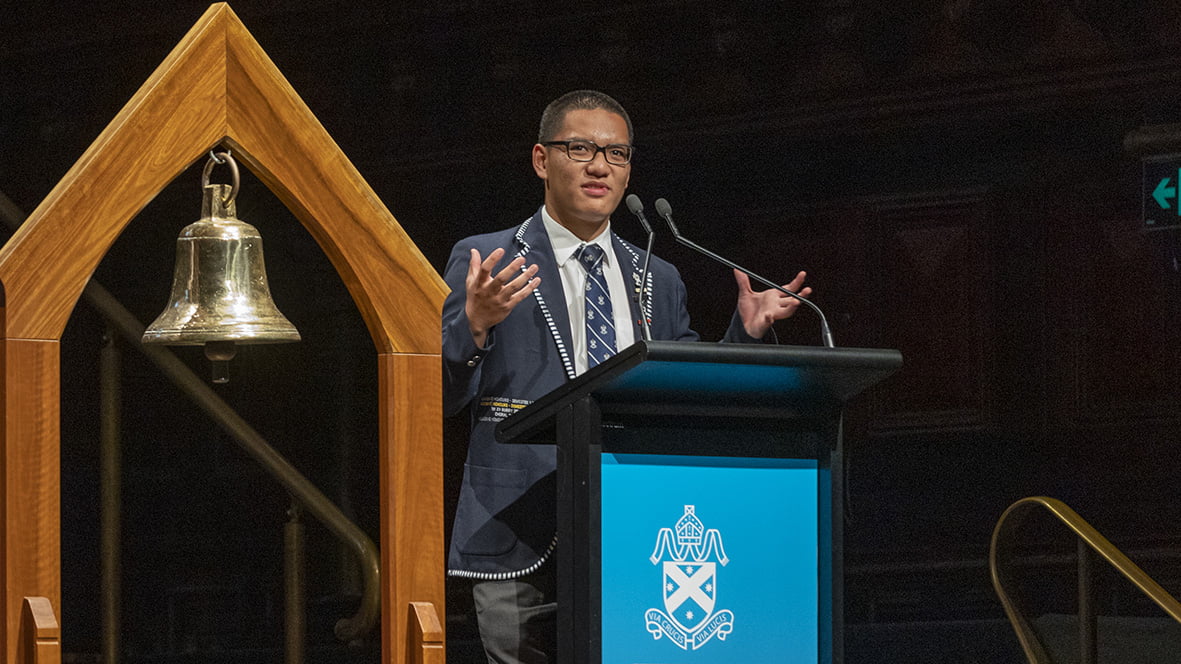 2021 Evening of Celebration and Prize Giving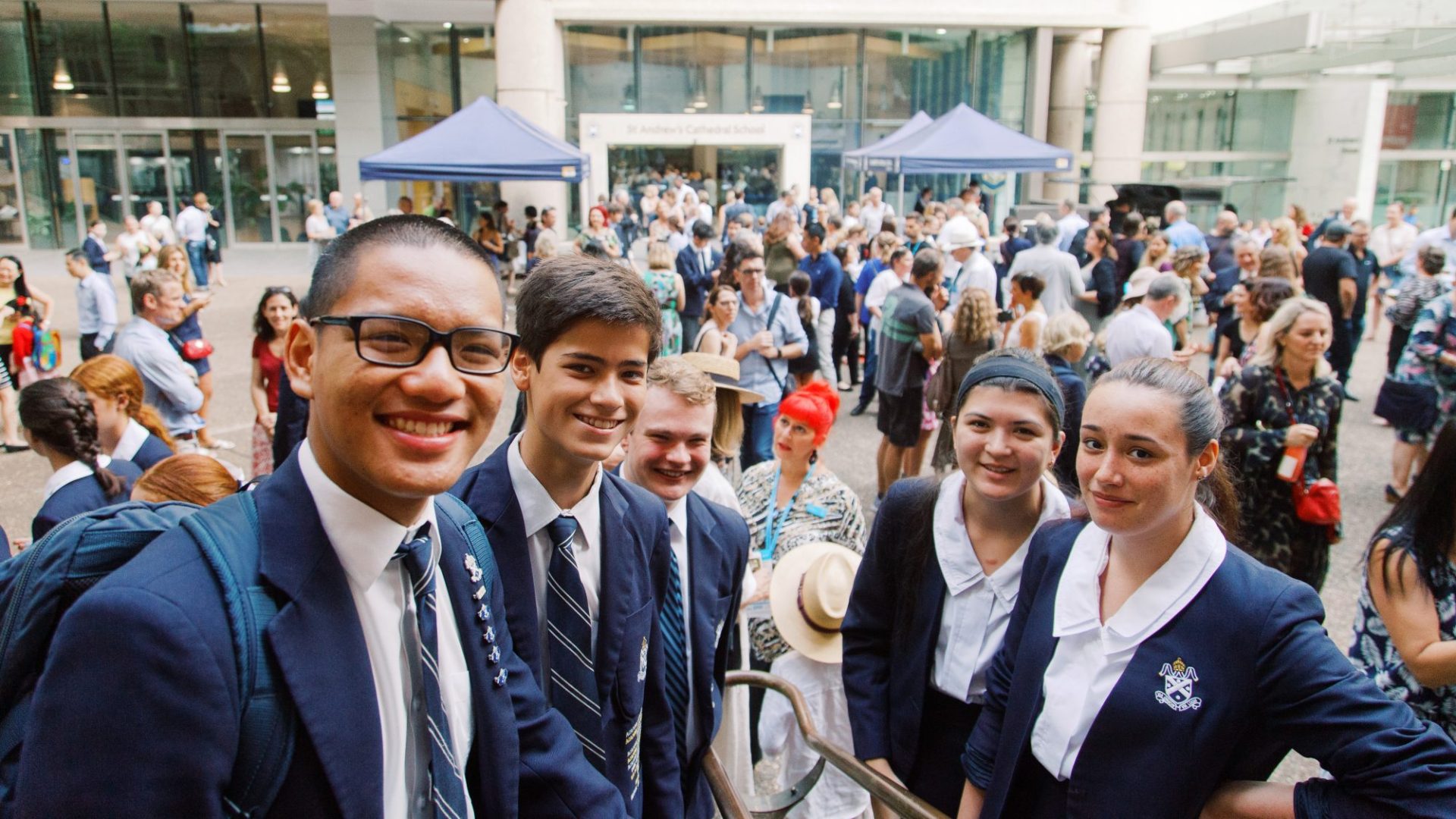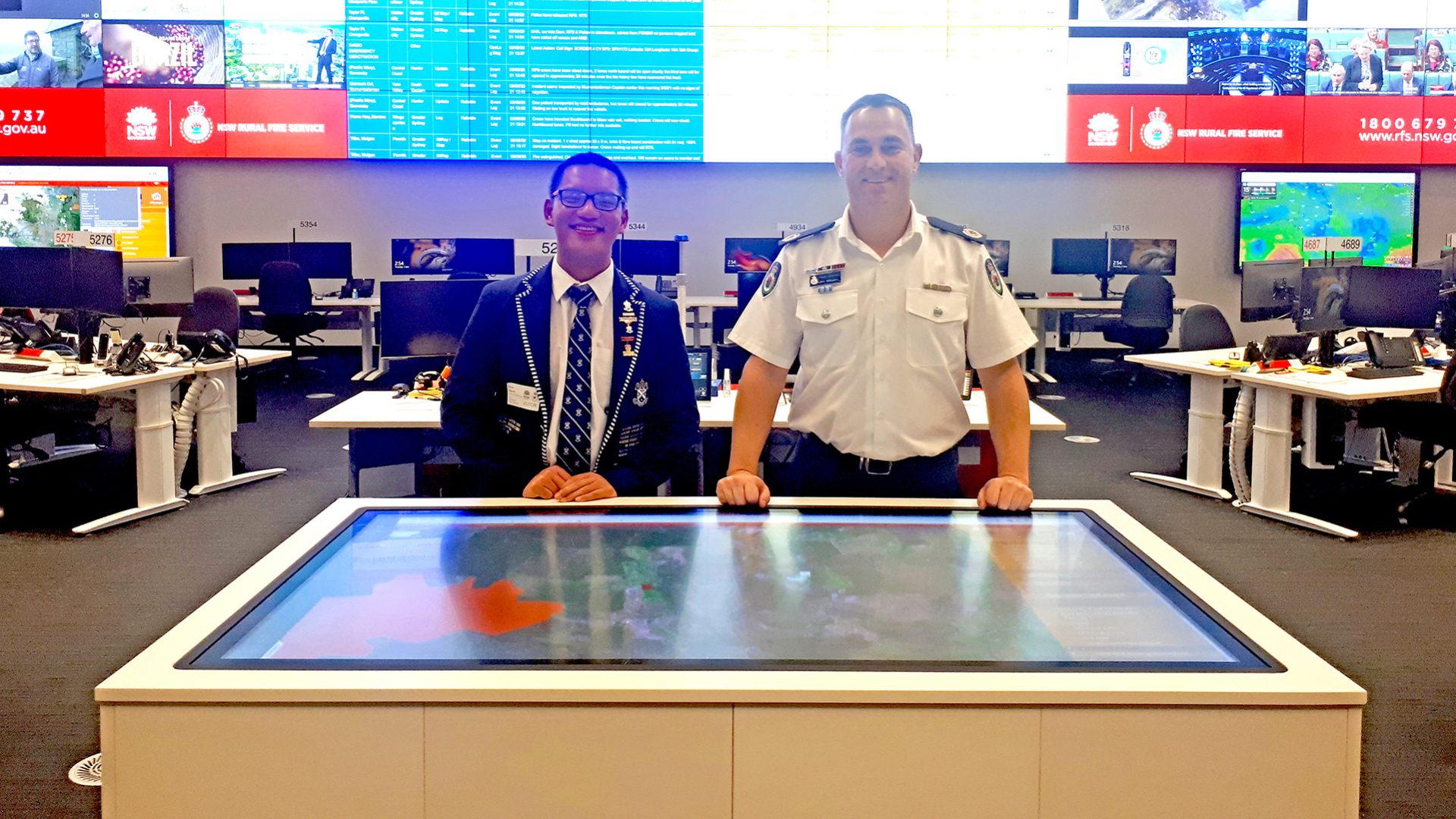 Dylan with RFS commissioner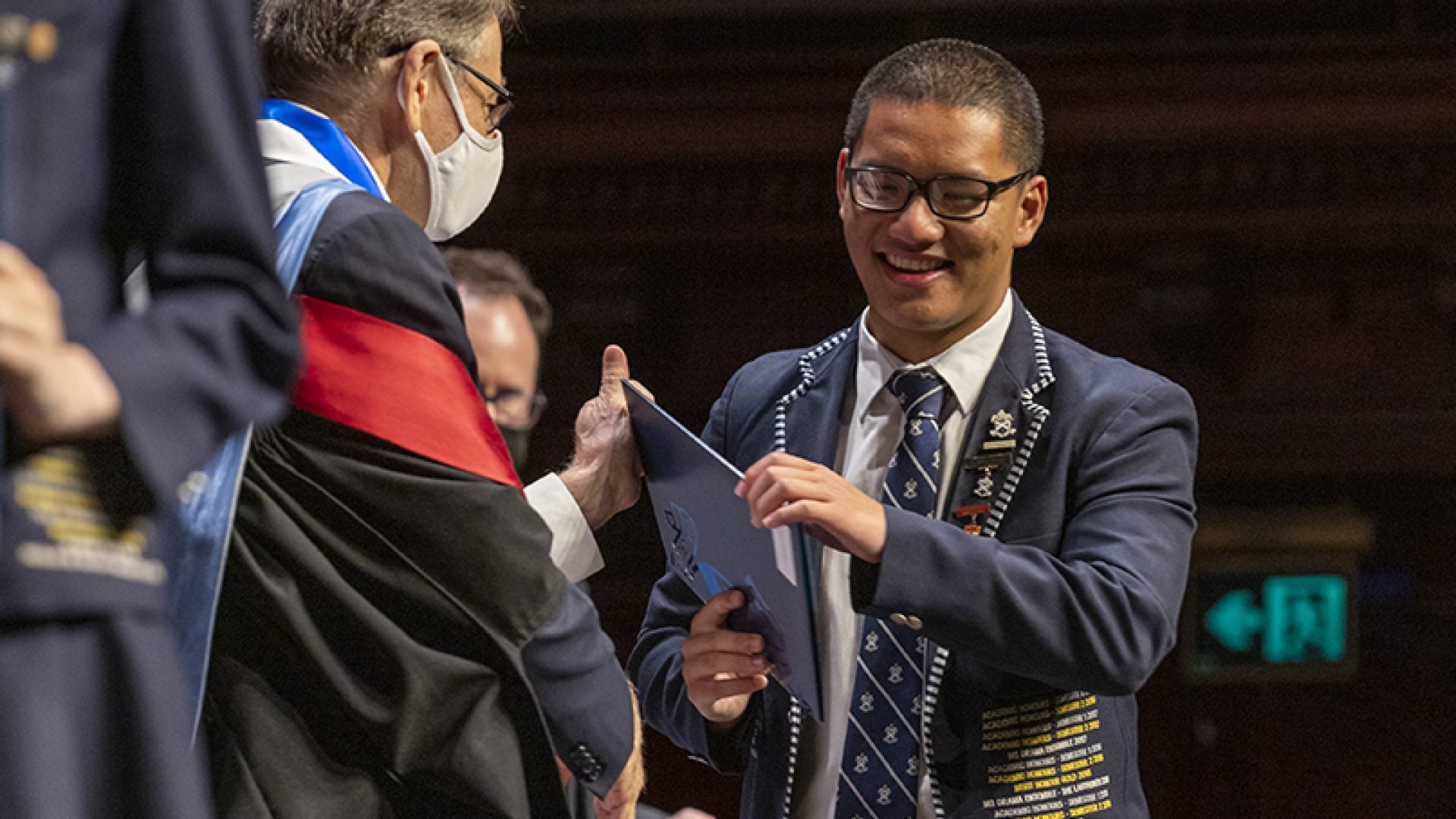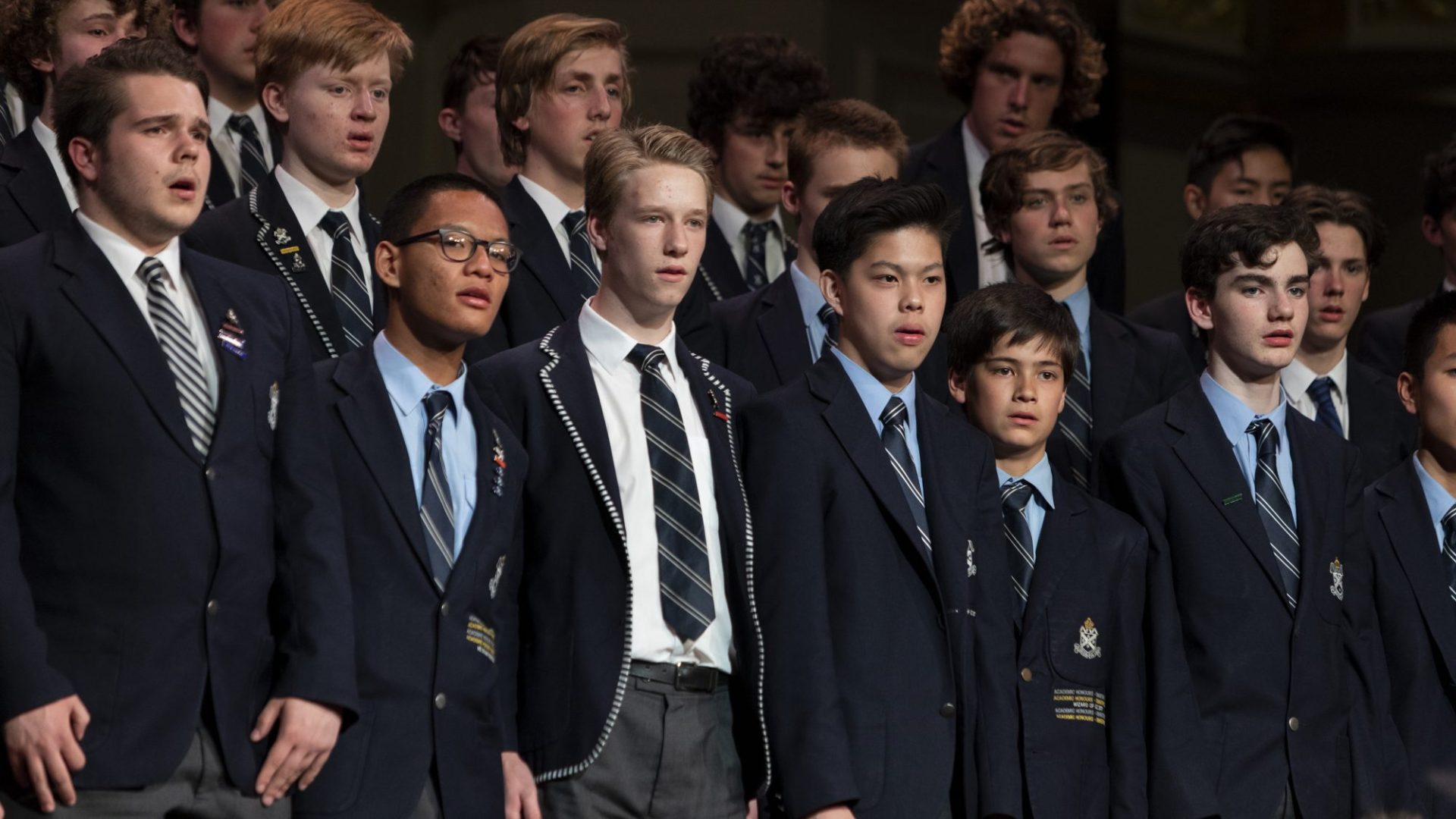 2018 Evening of Celebration and Prize Giving
The feeling is mutual. During Year 12, Dylan sought to give back to the school community in his role as School Captain. His selection was a wonderful testament to how far Dylan has come since arriving in Australia from Vietnam, and rather than take the privilege for granted, Dylan has worked hard to care for others.
"I think I was ultimately able to apply what I had learned from making friends early on in Year 7 to my role as School Captain. I hope I've been able to contribute to other students' sense of belonging here. Having experienced the struggle of not knowing what's going on, I think I've been able to empathise with members of the student body who have a harder time of things."
When he reflects on his experiences over the years, Dylan's only regret is that the 20-day Kosi to Coast expedition, which sparked the whole journey, was his last camp experience at the school. He said if he could change anything about his time at St Andrew's Cathedral School, it would be to extend the Outdoor Education programme beyond Year 10 because it taught him so many life skills.
"The number one skill I needed to create SatAlight was just being able to stick with it. I had to persevere to get the project done. Having that experience from the 20-day motivated me to keep at it," he said.
As a 2021 graduate, Dylan wants to continue to use and add to the skills he's gained from computer studies.
"I've always looked at it as a way to solve problems for people and I hope down the line I'll be pursuing a career where I can do just that, where I can use computers to make people's lives better; maybe related to things like bushfires, maybe in other areas as well," he said. "There's so much that can be accomplished with computer science and I'm hoping to do something good."
Perhaps surprisingly, Dylan believes the moments he'll remember most from school are the ones where he was allowed to fail. It's these moments that will stay with him over and above the moments of great success. There's one story in particular that Dylan will take with him.
"In Year 10 I was convinced by my friends to enter the 200 metres butterfly at the school swimming carnival. When I dived in, my goggles fell off and it quickly became apparent that I was an extremely poor swimmer. After 100 metres, I had to stop," he explained.
"For me, what stands out about that race is the idea of just being encouraged to have a go. At SACS, there's no screening to stop people who don't have experience and there's no uber competitive culture that makes you shy away from giving something a go."
In 2022, Dylan accepted a scholarship to study at the prestigious Duke University in North Carolina, USA, where he will study a double degree in Electrical and Computer Engineering and Computer Science for the next four years.